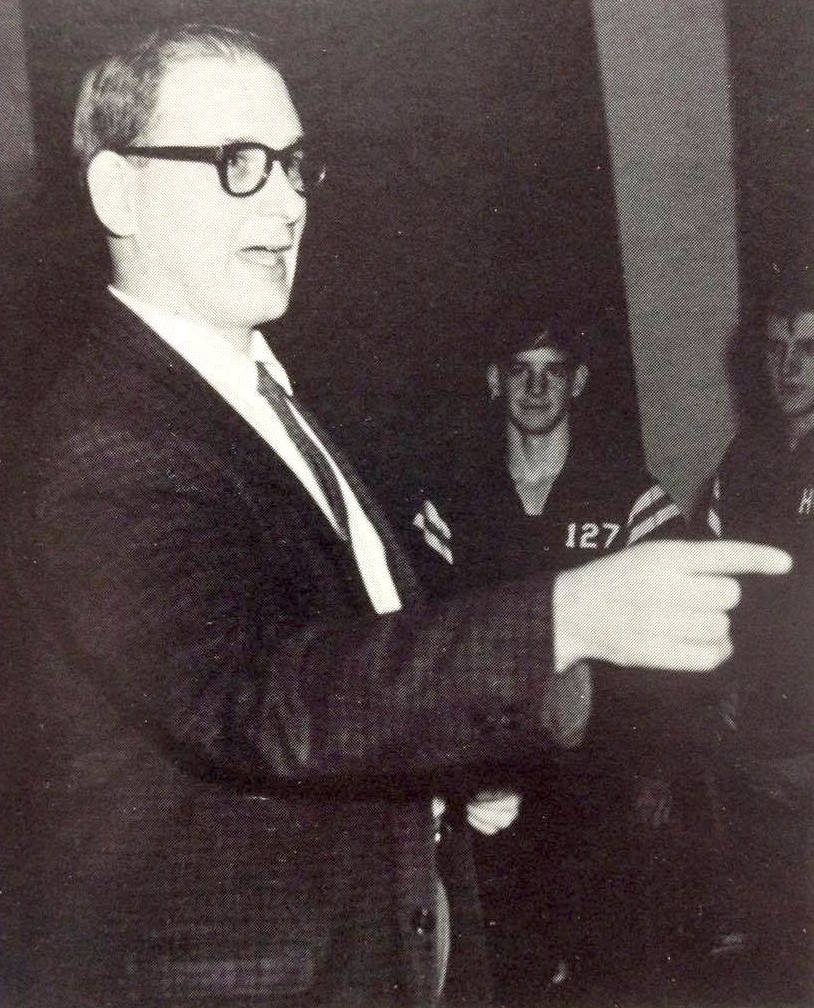 Coach Berg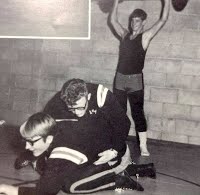 Mel Nelson (Bottom) sparing with Ron Berg. John Dubiel waiting his turn, lifting.
Wayne Knudtson and Ed Dubiel practicing.
Season Notes: 50 Seasons Ago: "Do Your Thing", 1968-1969.
The 1968-1969 season of Norsemen wrestling saw the boys doing their thing under new Head Coach Clark Berg. With eight experienced lettermen and returning hammers Mel Nelson, Ron Berg, Ed Dubiel and Wayne Knudtson the Norse were a formidable crew.
The wrestlers this season were James Ritland, Jewel Hagen (#120), James R Johnson (#HWT), Jeff Larson (#138), Ed Dubiel (#145), Mel Nelson (#154), Ron Berg (#165), Kurt Johnson (#95), Brad Holtan, Alyn Knudtson, Wayne Knudtson (#112), John Dubiel (#127), Jerry Bergerson (#133), and Daniel Lee.
The loud and proud wrestling cheerleaders this season were Debbie Koepke, Kathy Hanson, Barbie Bensend, and Susie Gronemus.
The team fought hard through a tough schedule. There were big schools like Chippewa falls and Onalaska on the schedule as well as the powerhouses of the era C-FC and Arcadia. Our Norsemen ended middle of the pack; 3-3 in conference and 4 and 9 overall. There were quite a few close duel scores showing the all out effort these guys were giving.
Whitehall Dairyland Invitational Tournament: 1st Place= Independence (76 points), 2nd Place= Arcadia (73 points).
The '69 regional tournament was held at Melrose-Mindoro and four Norsemen fought to the podium. Ed Dubiel placed 4th. Wayne Knudtson took 3rd. Ron Berg fought to 2nd place. Mel Nelson was crowned regional champ.
With their high places Mel Nelson and Ron Berg became sectional qualifiers and finished their season getting the farthest for the Norse by wrestling the Sectional Tournament at Westby. An interesting footnote is Coach Berg and Coach Crowley from Arcadia took their sectional qualifying wrestlers to Winona State to work with the college wrestlers there to prepare them for Westby. When modern wrestlers look back on this era many falsely assume that no additional work outside the wrestling room went on. It was as it is. If you want to be a better wrestler you have to find many opportunities to work on your craft. These wrestlers did those things as you should do in the modern era.
This is the first Whitehall team not led by founding coach Larry Linse. They take the Norse into a new era as they come to the end of the 1960's. Forward Norsemen.