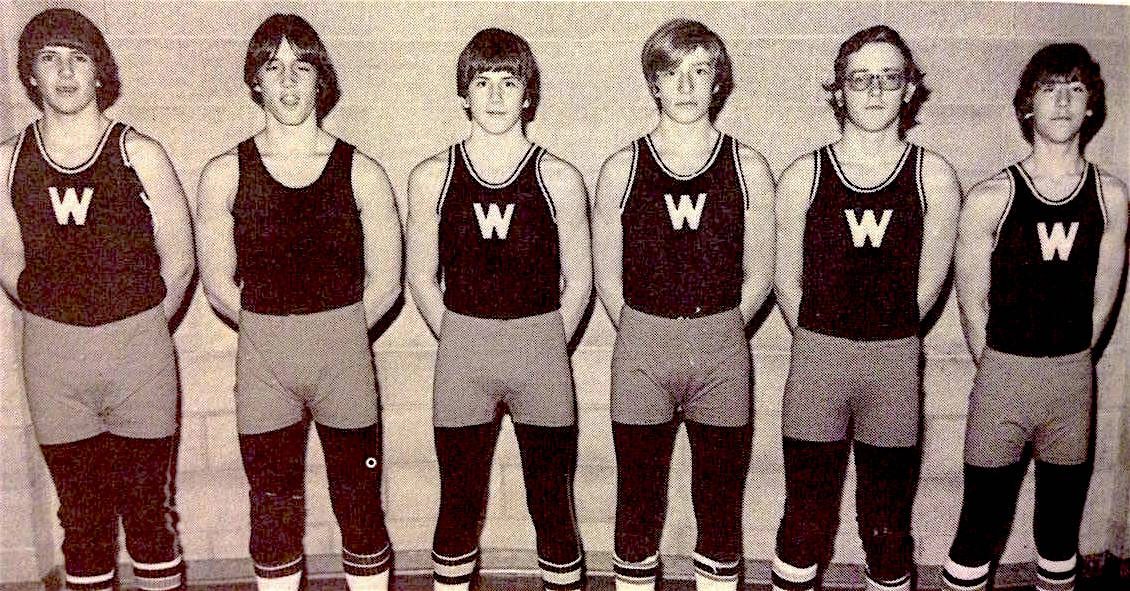 1976-1977 Future Varsity.
Dan Hauge, Joel Jacobs, Ramon Kohnert, Brian Bautch, Jim Wright, Greg Kabusiak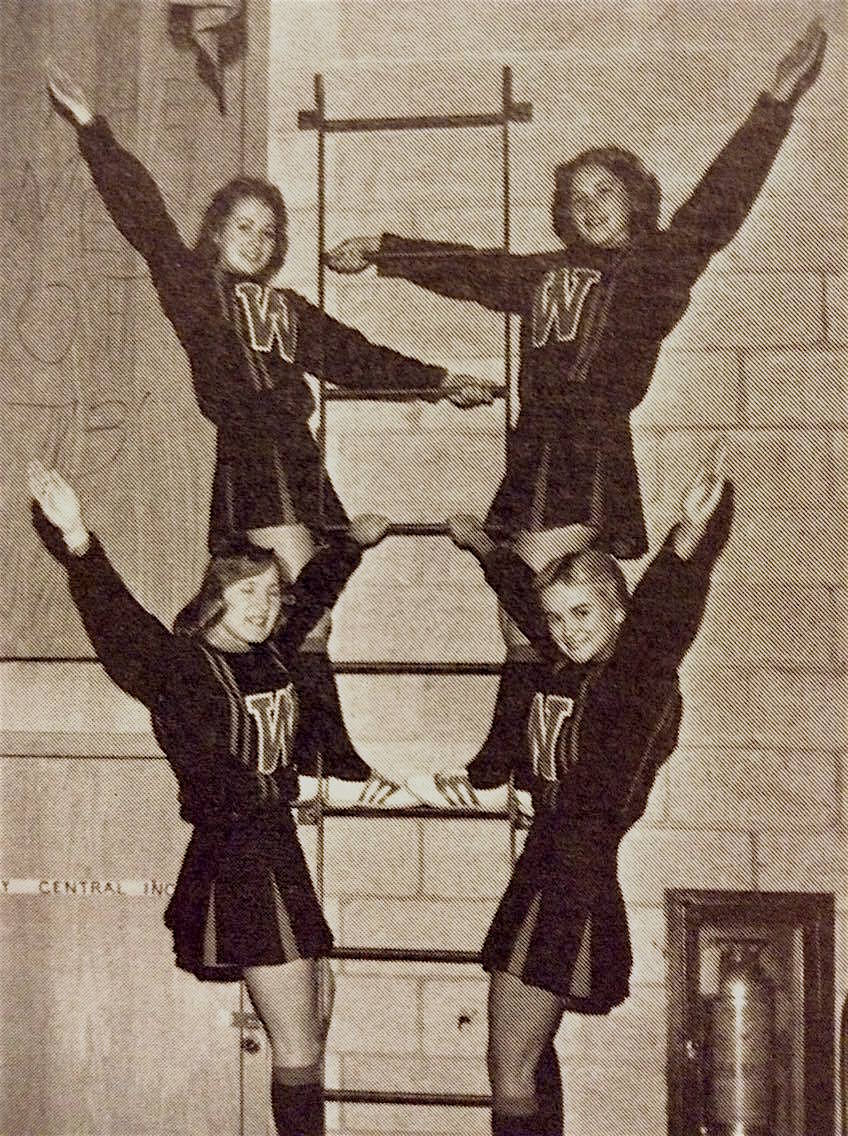 Norse Wrestling Cheer Squad
Top of the ladder, L to R: Kathy Briggs and Pam Torud.
Bottom of the ladder L to R: Donna Shoemaker, Kaye Wozney.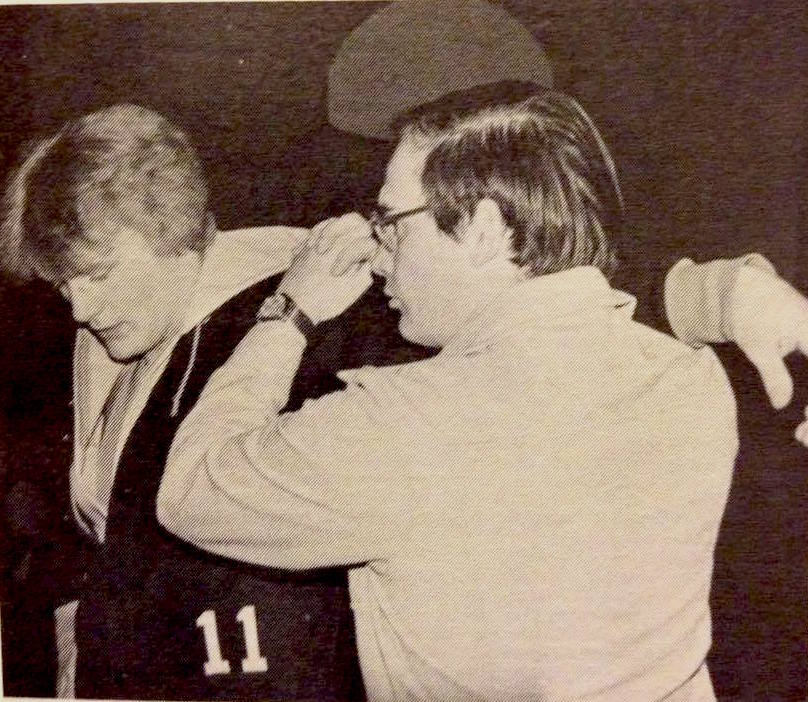 Coach Brickner getting Bruce Berg ready to wrestle.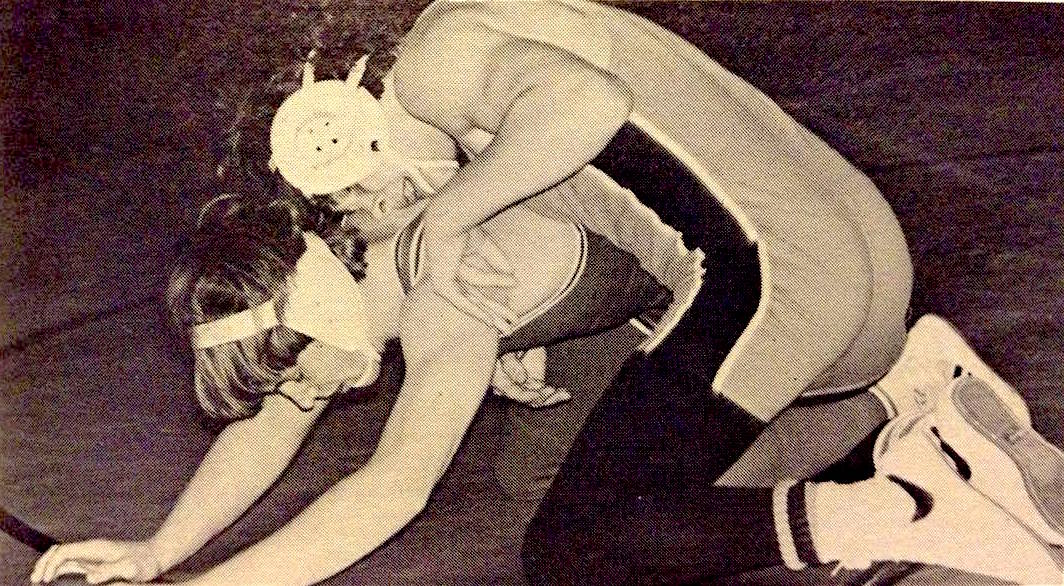 Off the whistle, Scott Kulig starts working over his Eleva-Strum opponent.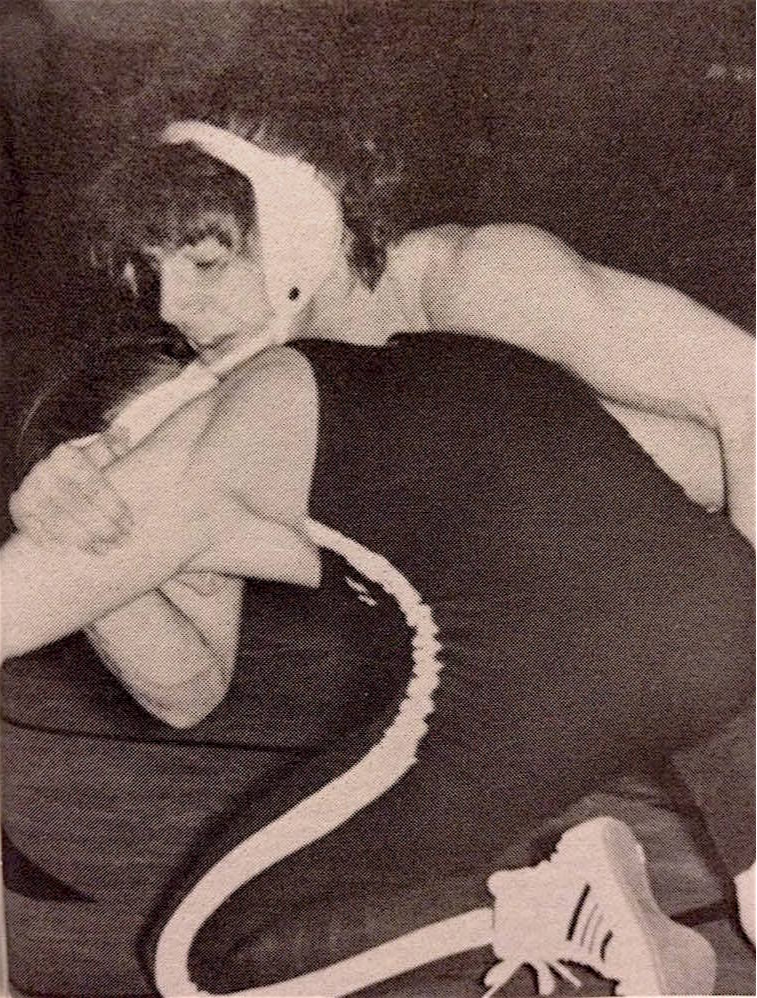 Scott Faldet finished a reversal and is looking for more points against his Onalaska opponent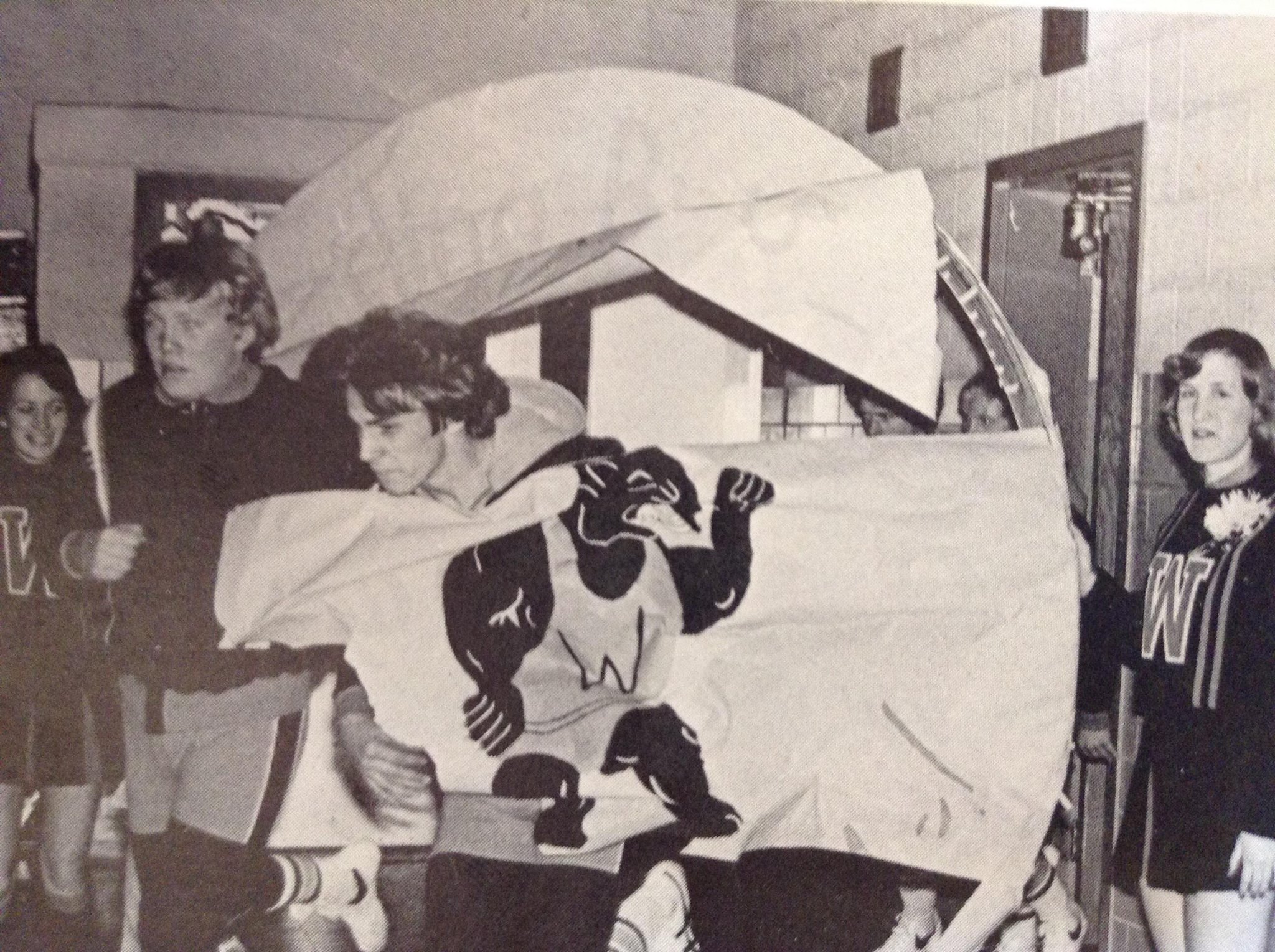 Parents Night vs Eleva-Strum. Rick Paulson and Scott Faldet smash through the hoop ready for battle.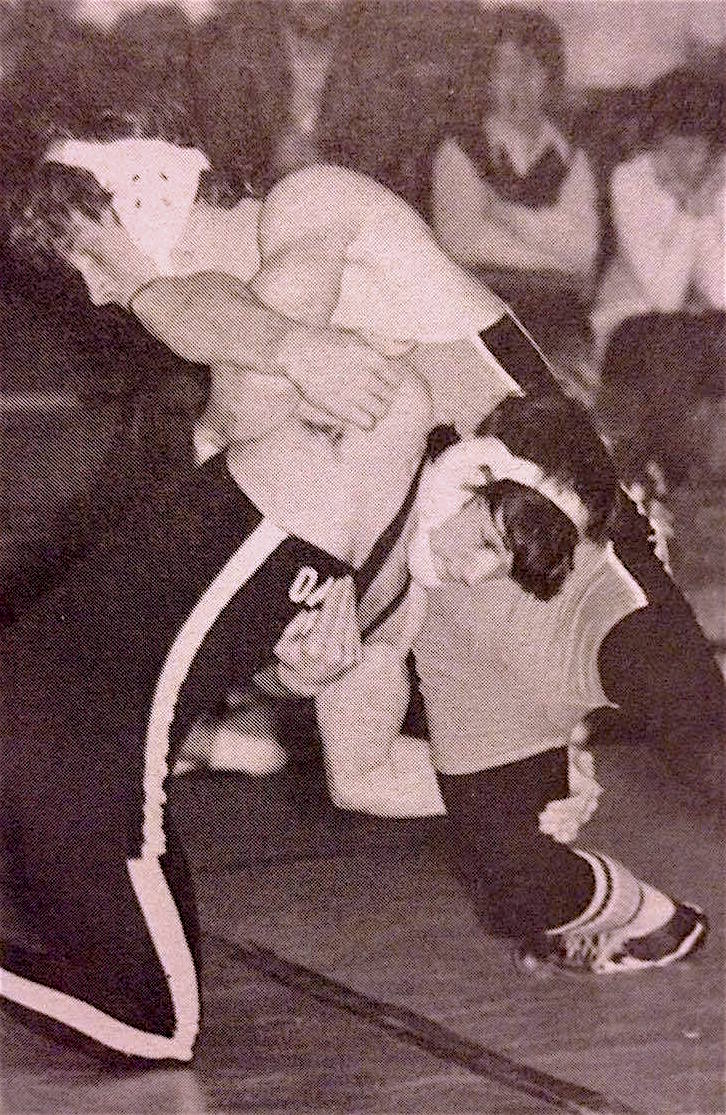 Mike Anderson working his guy to the mat with a cow catcher.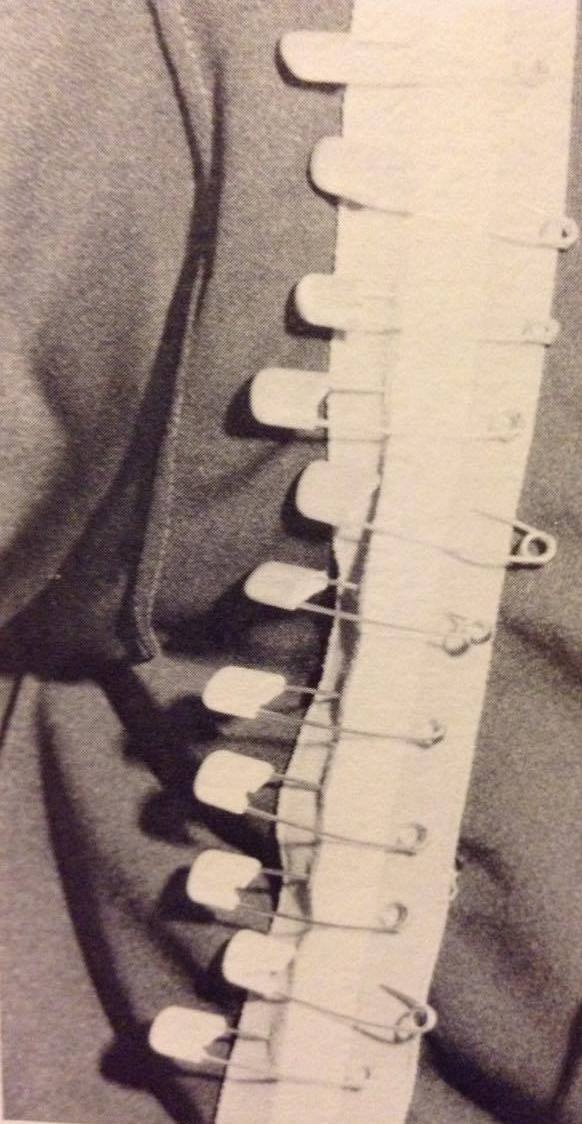 Bruce Berg's pin collection.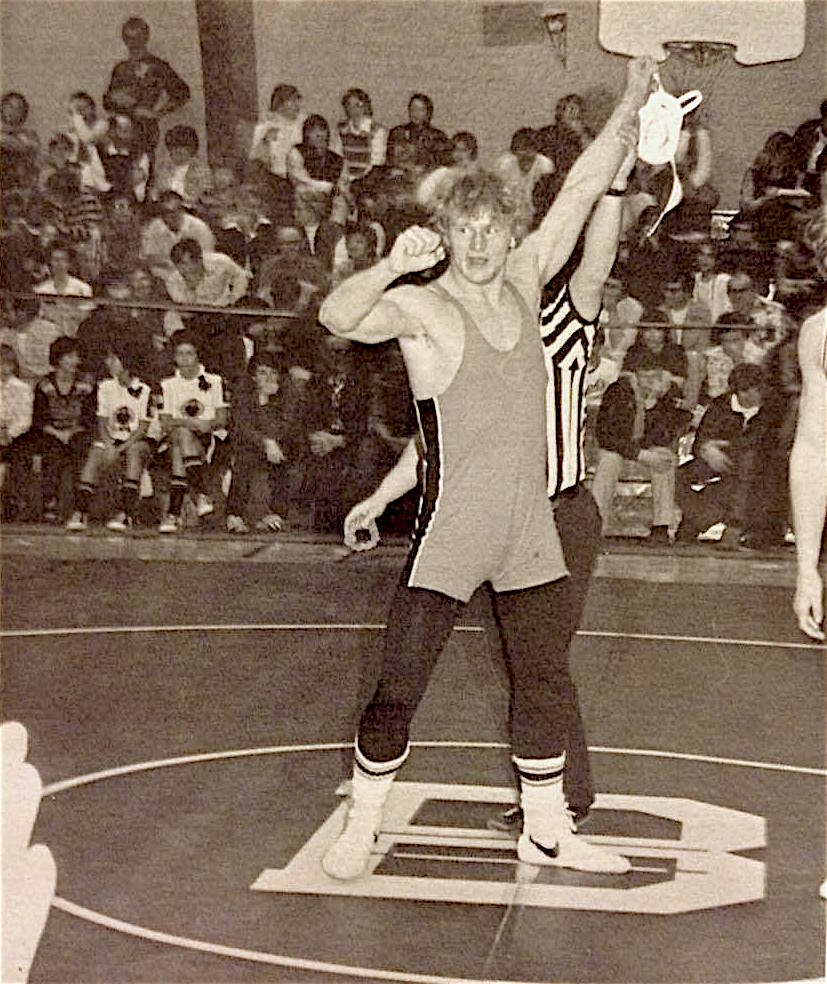 Bruce Berg Becomes Regional Champ.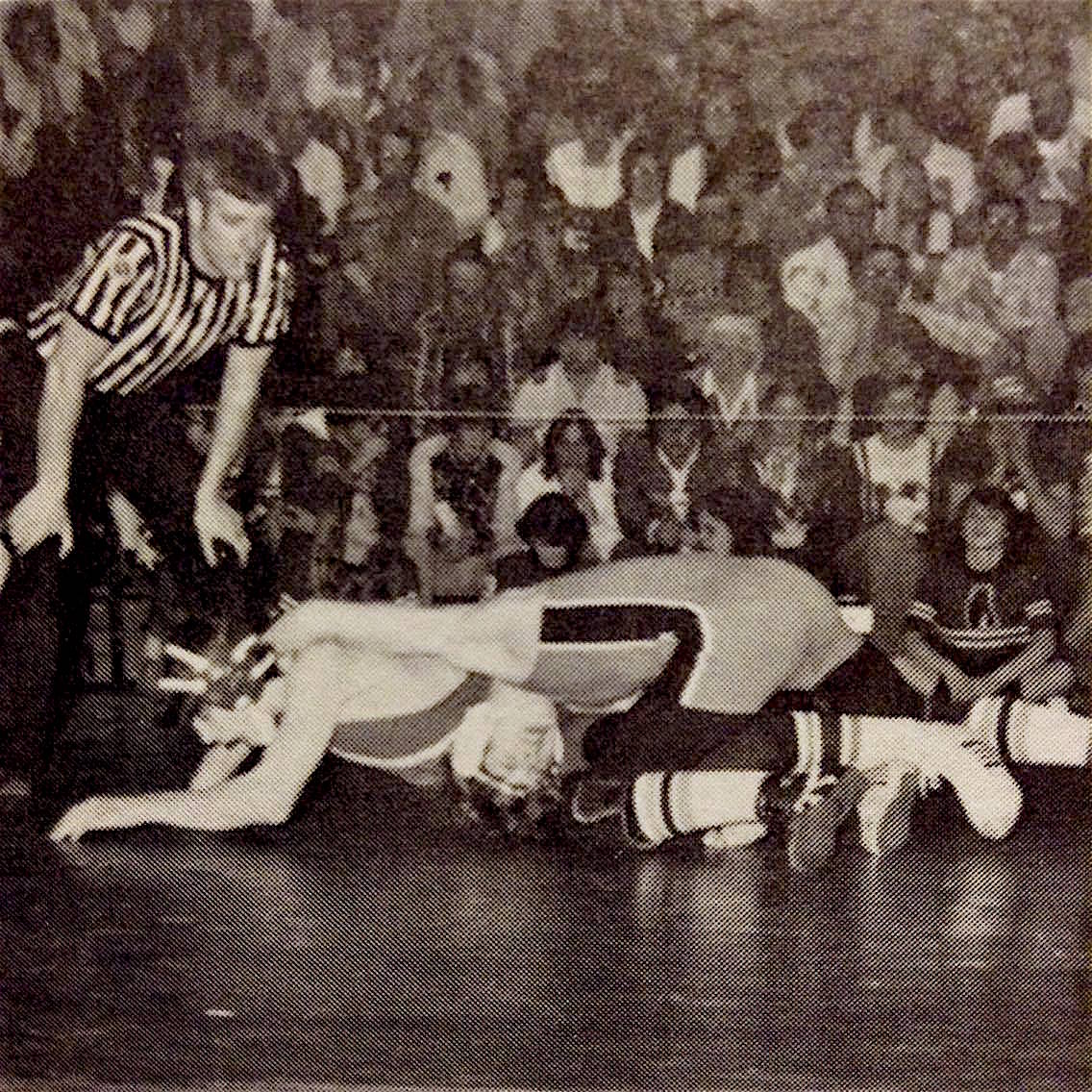 At the La Crosse Sectionals, Mark Koxlien is searching for a fold the table cradle against his Iowa-Grant opponent.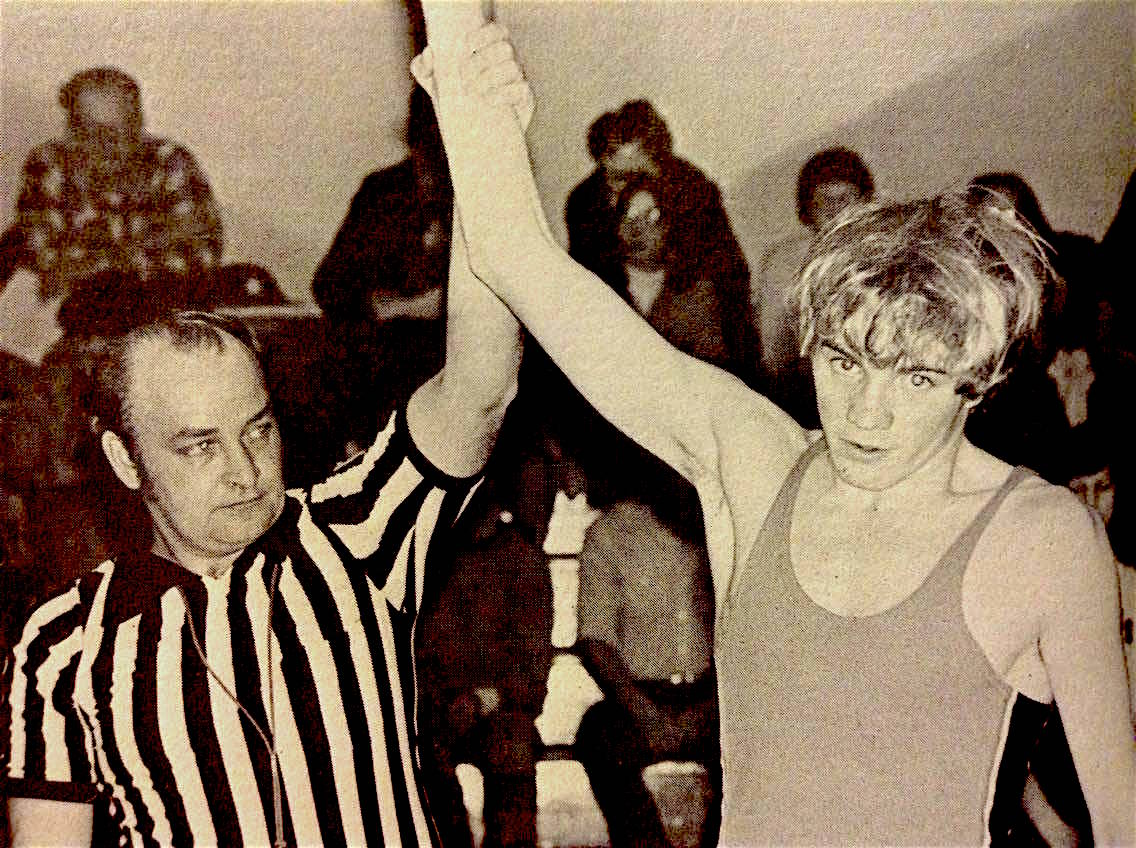 Jim Bautch exhausted but victorious.
Season Notes:
40 Seasons Ago: "Rubberband Men" 1976-1977.... First year Head Coach Brian Borreson, his Assistant Coach Tony Brickner and the wrestlers slingshot the program from a 5 and 8 finish a season earlier to a 8 and 5 finish this year. Led by First Team All-Conference wrestlers Alex Hernandez (#98, 7W-0L), Jim Bautch (#132, 7W-0L), Connie Gromoff (#138, 7W-0L) and Second Team All-Conference wrestler Bruce Berg (#185, 5W-1L) the Norse place second in conference as a team, going 5 and 2. At regionals, the team placed third behind Arcadia and C-FC.
In duel action, the team took a tough beating from Arcadia and dropped the next two duels in very close contests. After that stretch, the boys went on a march through the area beating Blair, Mondovi, Osseo-Fairchild, Eleva-Strum, Alma twice (41-18 and 49-12), Alma Center (55-6) and Brookwood (45-15). Little did the boys know that the deciding duel for conference came early in the season against Indee where they lost in dog fight (28-33) in the yearly Battle of 121. Other team accomplishments came in tournaments where the Norse placed third in Onalaska (Jim Bautch Champ, Gromoff 2nd, Hernandez & Paulson 3rds, M. Koxlien & Anderson 4ths), fifth at the Dairyland Invitational (Hernandez, Bautch, Berg 3rds, Gromoff 4th), and sixth in the West Salem Panther Invitational ( Bautch Champ, Hernandez 2nd, Berg 3rd, M. Koxlien & Paulson 4th).
Stand out Individual efforts for the season came from consistently high tournament placers Connie Gromoff, Alex Hernandez, Rick Paulson, Mark Koxlien, Bruce Berg (18-6), Jim Bautch (21-3-1) and Mike Anderson.
In this era there was a sub-regional to start the WIAA state tournament series. Survivors of that battle were Alex Hernandez (22-6), Mark Koxlien (13-10), Jim Bautch, Connie Gromoff (16-9), Paul Sogla (16-8), and Bruce Berg.
Blair Regionals:
Gromoff 4th place. Sogla 3rd place. Hernandez & Bautch 2nds, M. Koxlien & Berg 1st place. Team placed 3rd.
La Crosse Central Sectionals:
Surviving to move on to La Crosse Central sectionals were Hernandez, M. Koxlien, Bautch, and Berg.
First round losses: Hernandez loss to Chuck Abing (Lancaster, H.S.).
M. Koxlien loss (fall) to Randy James (Iowa-Grant H.S.).
Bautch Loss (0-1 match score) to Steve Nestingen (Westby H.S.)
Berg Loss (3-7 match score) to ????
This team was loaded with talent up and down the roster and added much to the legacy of success for the Norse wrestling program.