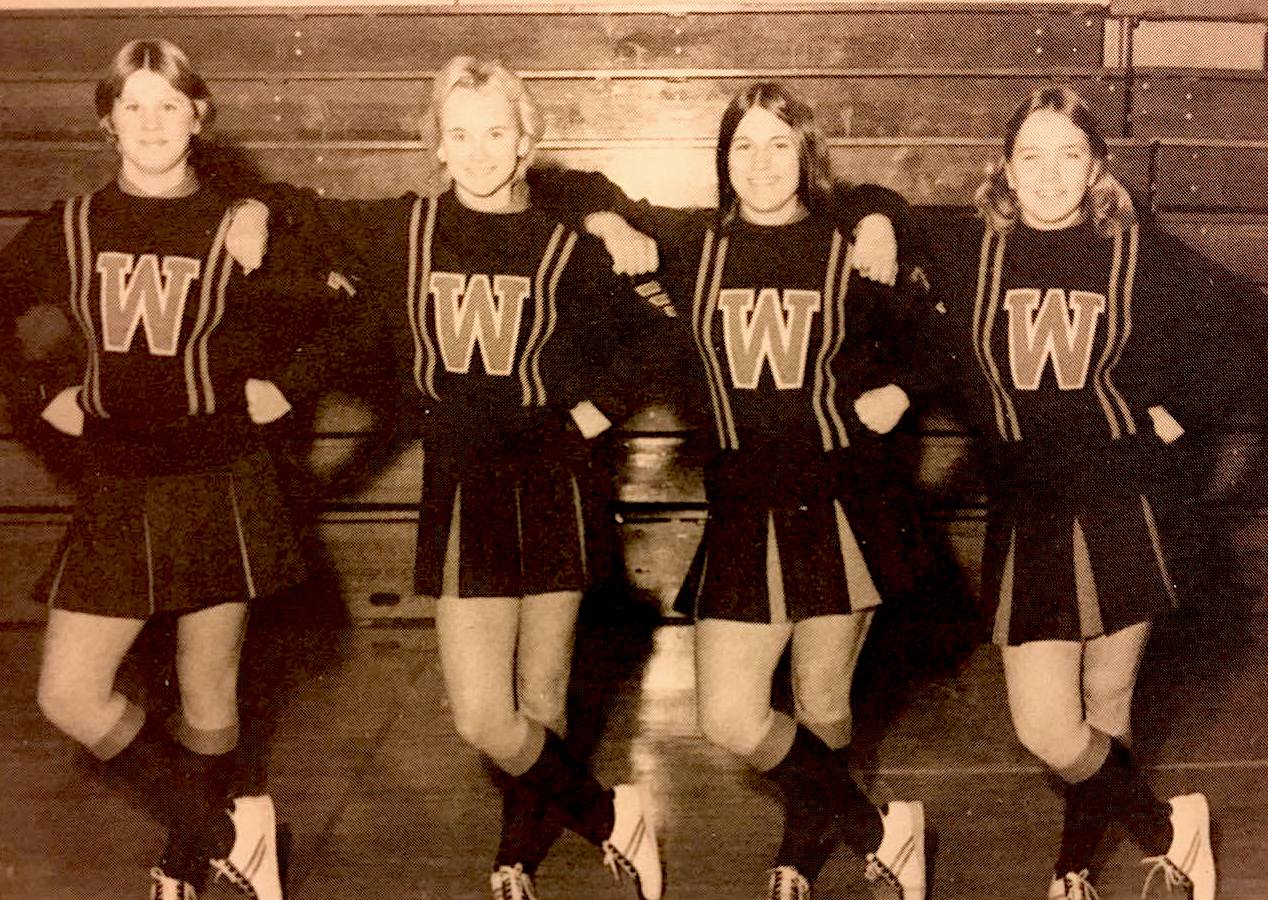 Wrestling Cheerleaders (L to R): Sue Hughes, Kaye Wozney, Brenda Faldet, and Pam Torud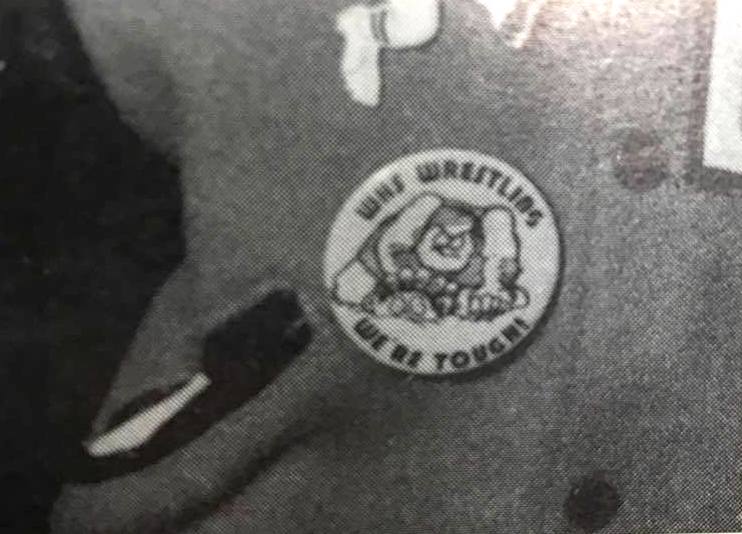 1977-1978 Button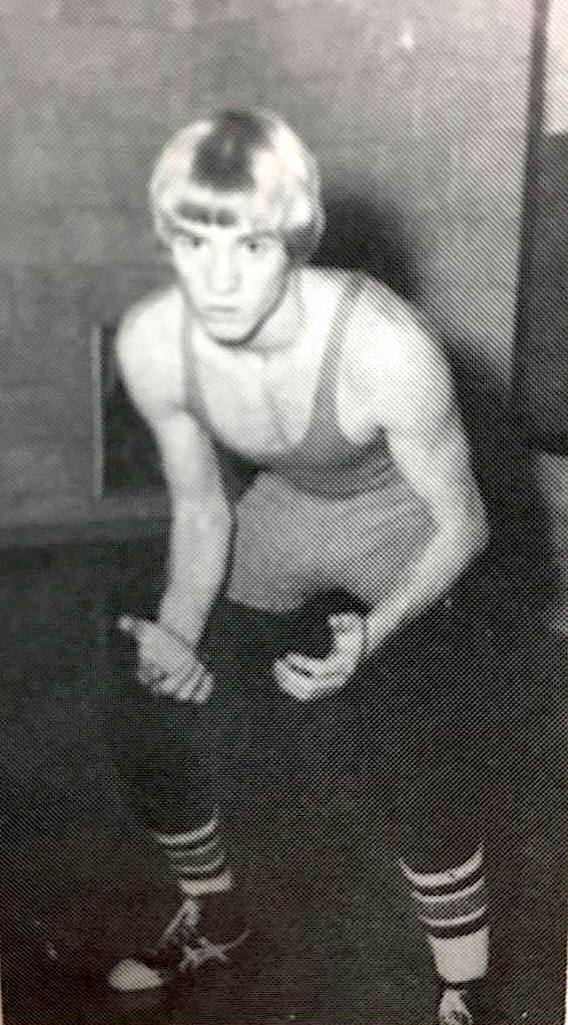 Jim Bautch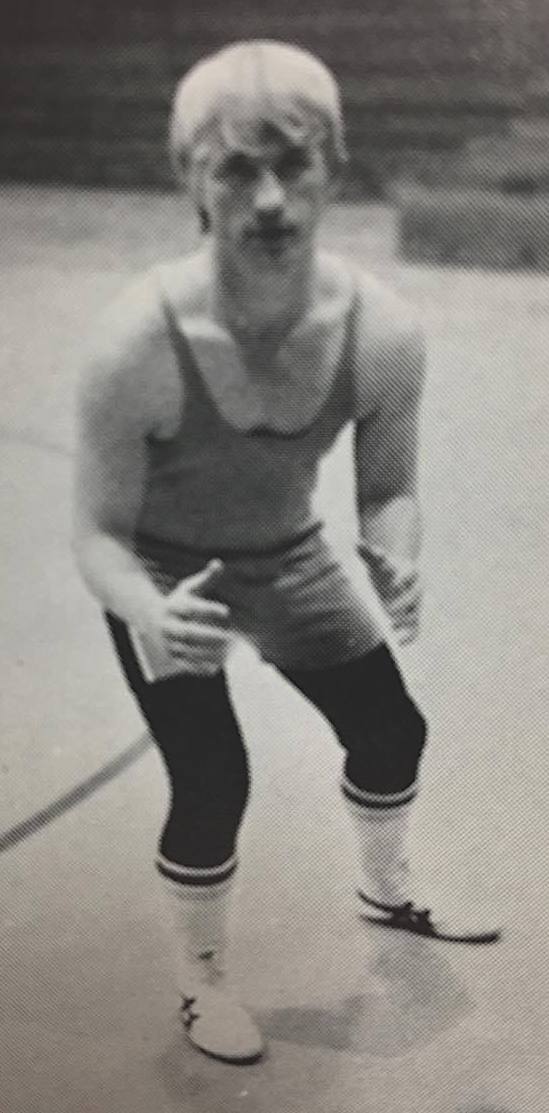 Paul Sogla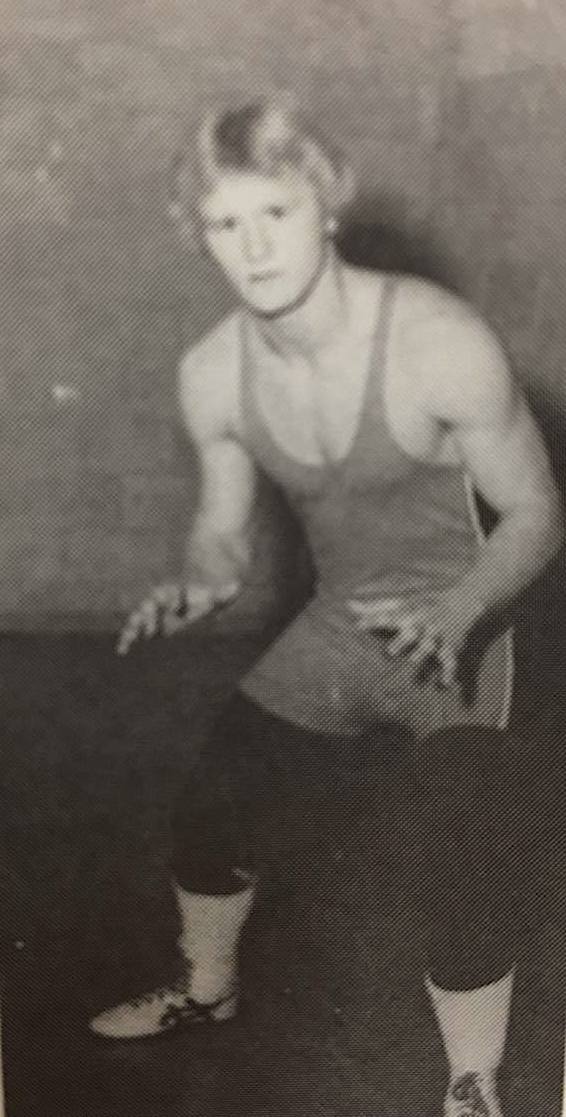 Bruce Berg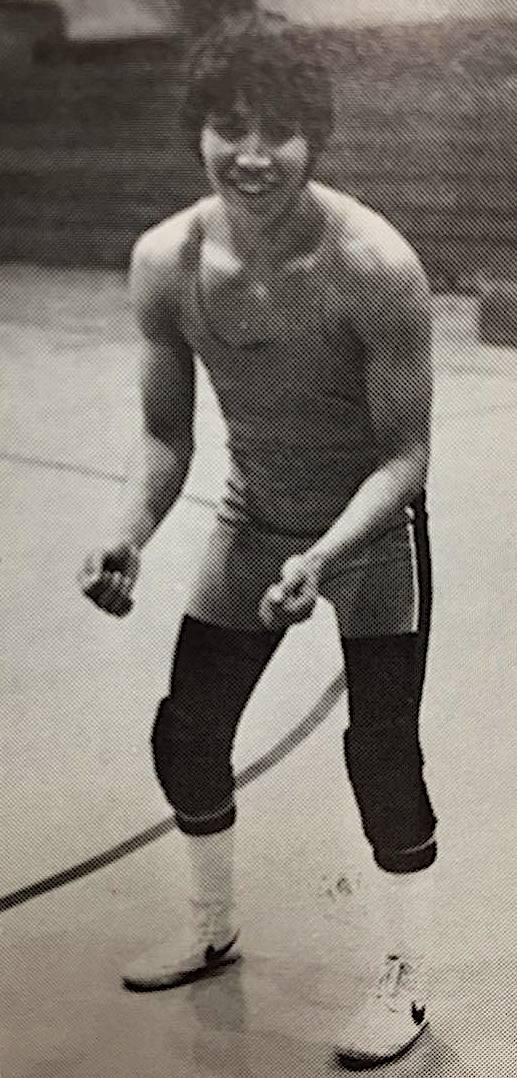 Connie Gromoff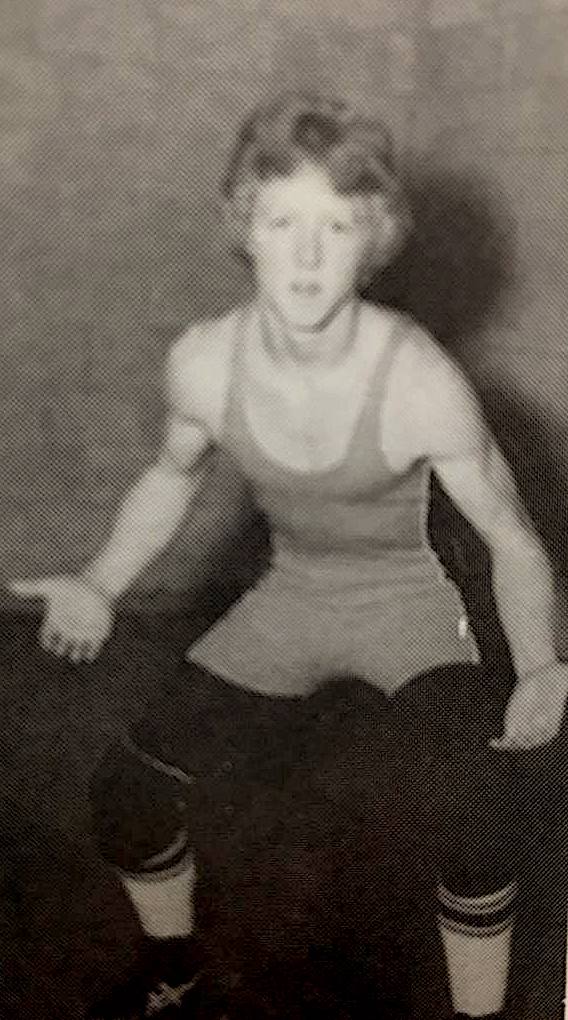 Mark Koxlien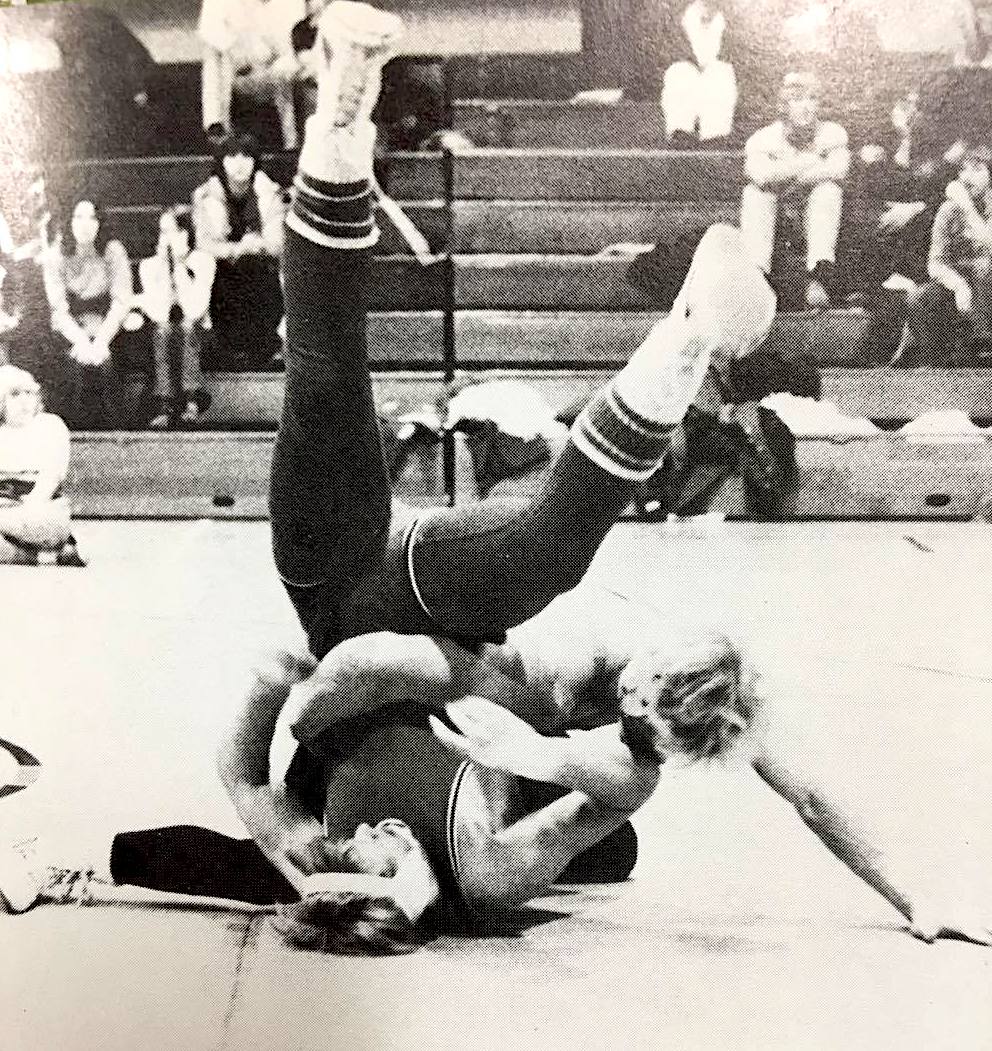 Bruce Berg stacking up Engen of Eleva-Strum.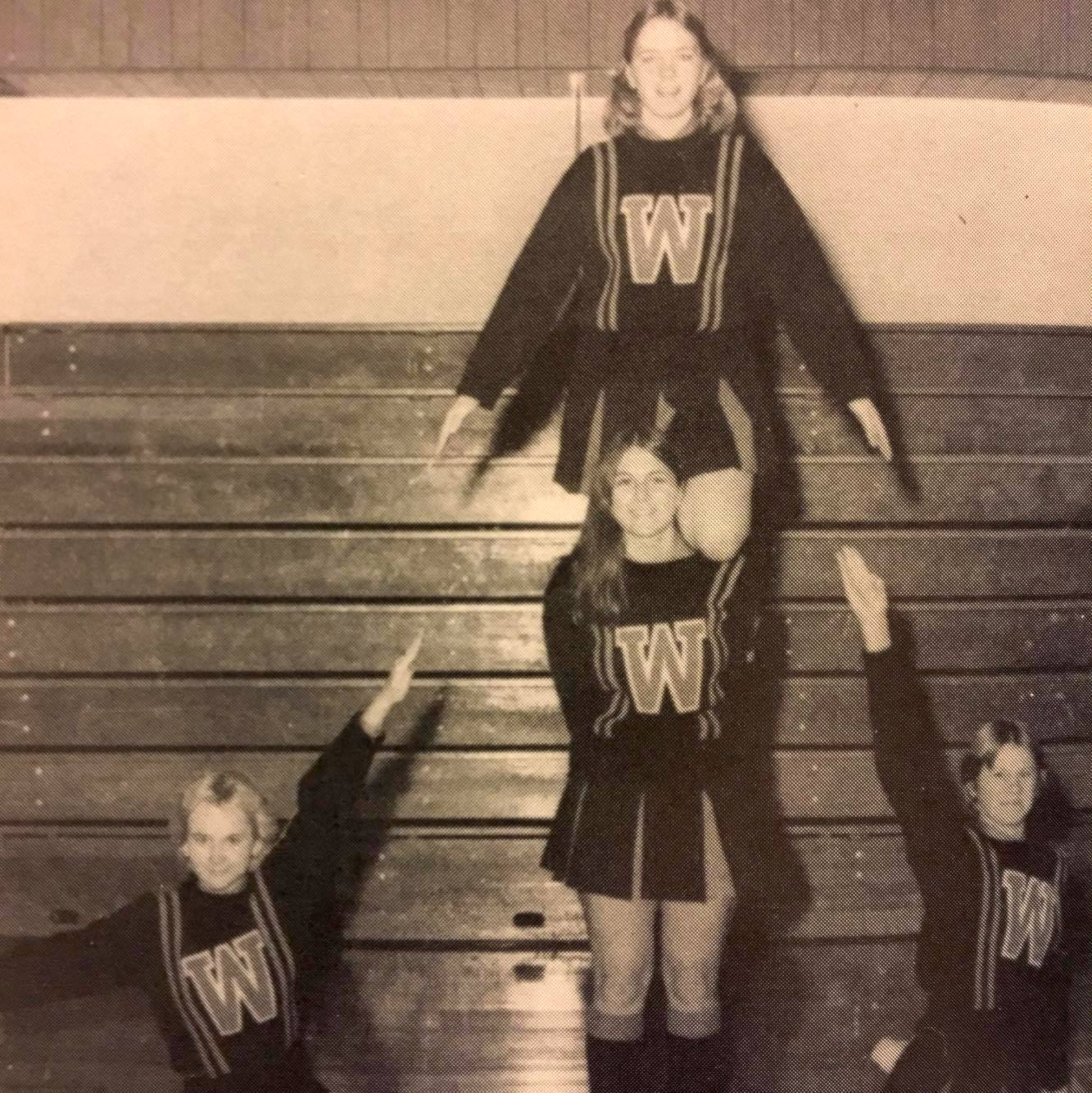 Cheerleaders Stunting.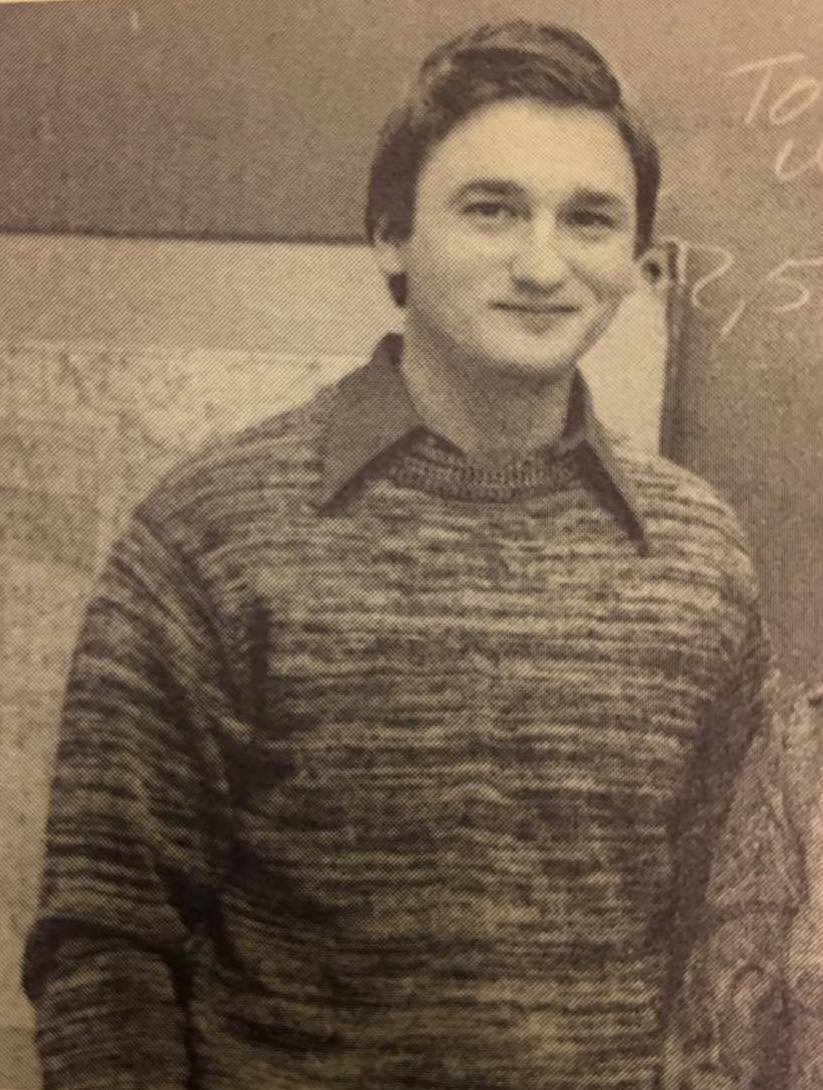 Head Coach Fahrman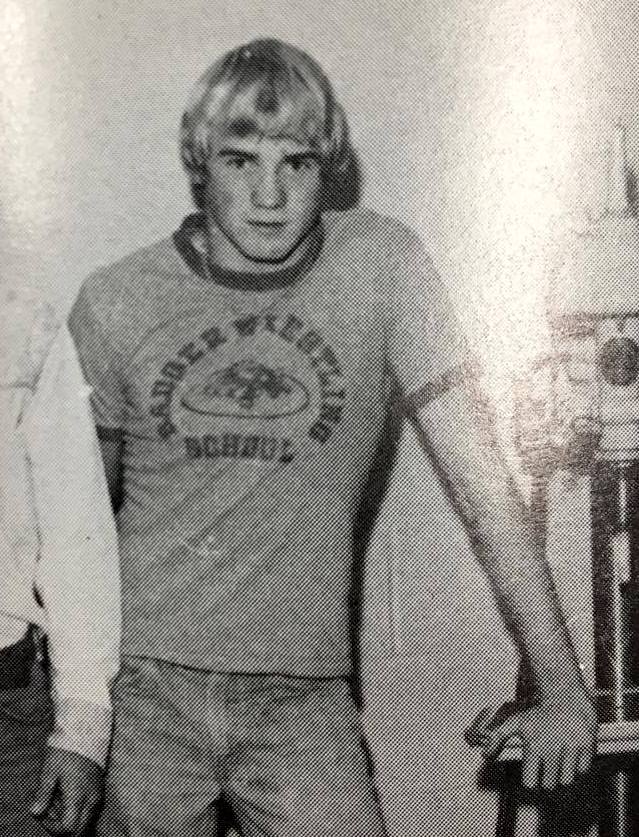 Jim Bautch has a cool shirt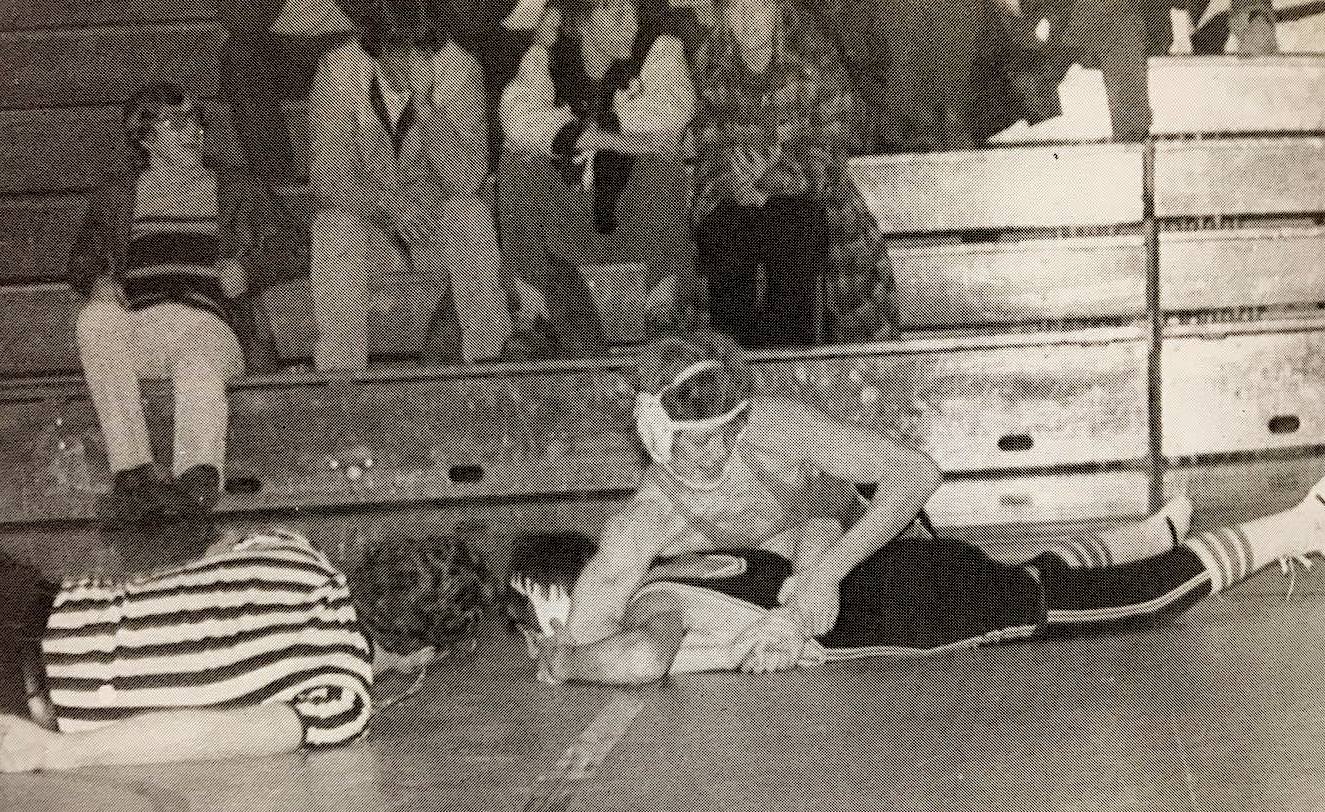 Mark Koxlien tying up C-FC's Pelley.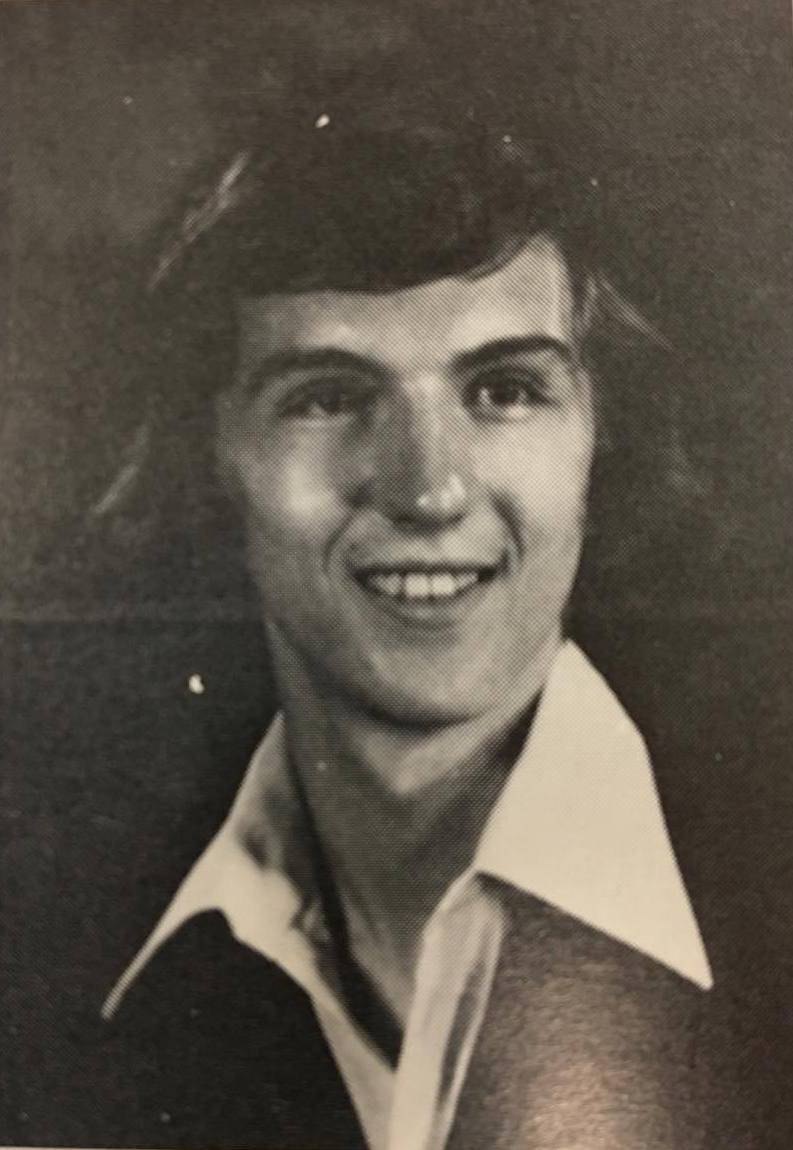 Manager Luc DeNoyette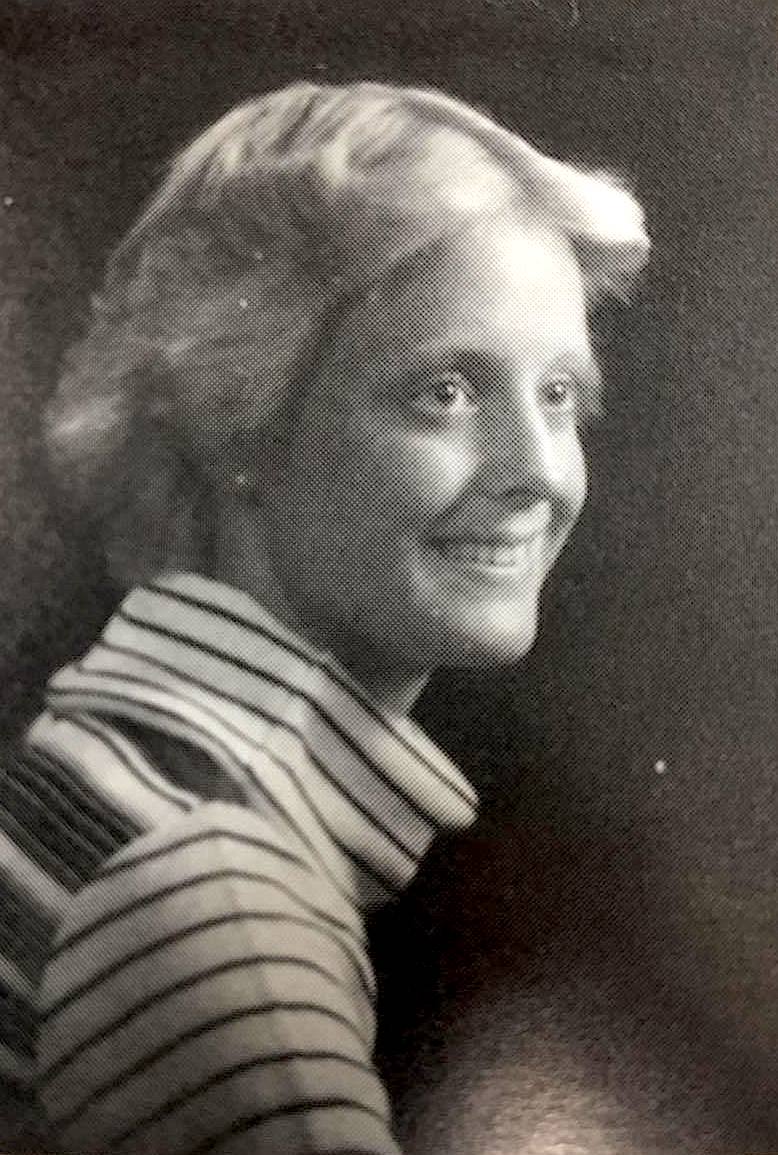 Statistician Dawn Oates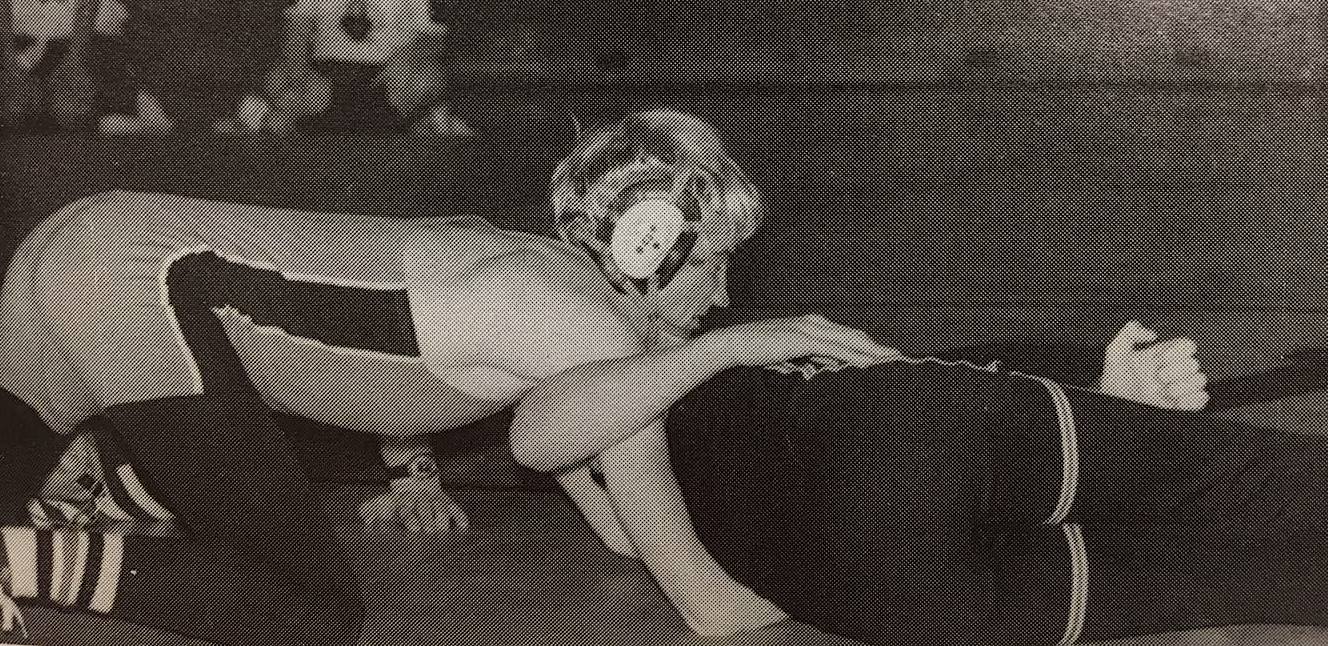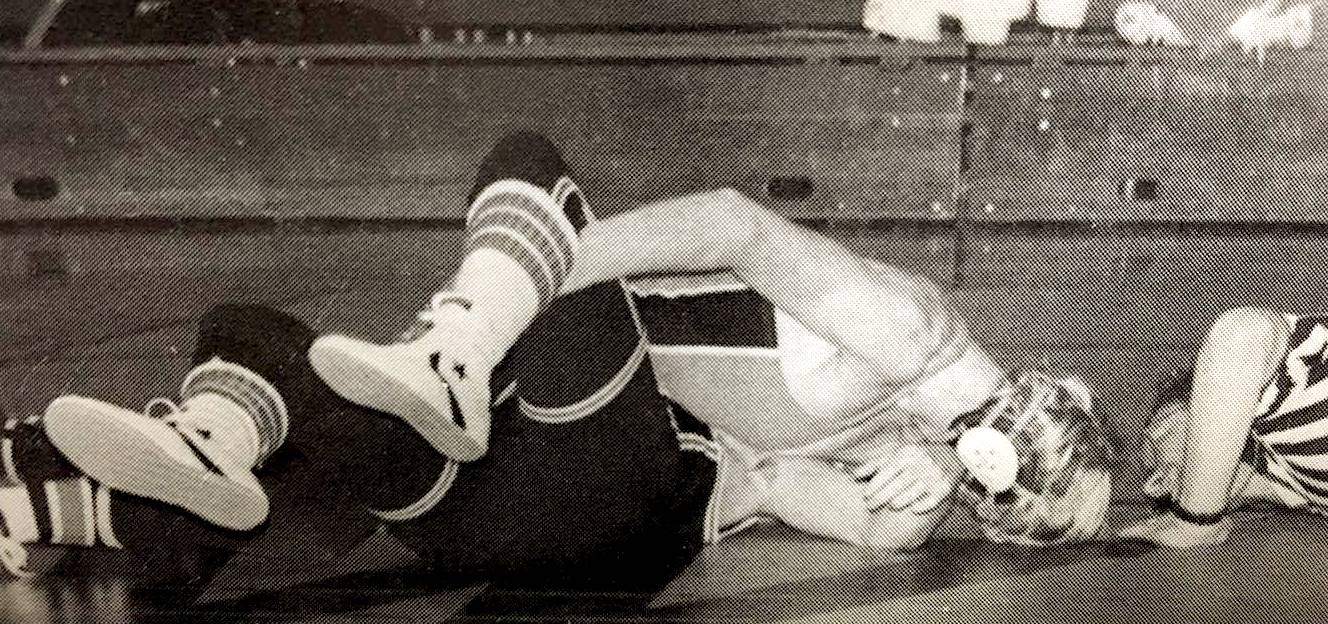 Image Jim Bautch working over McFarlin of C-FC to a pinning situation.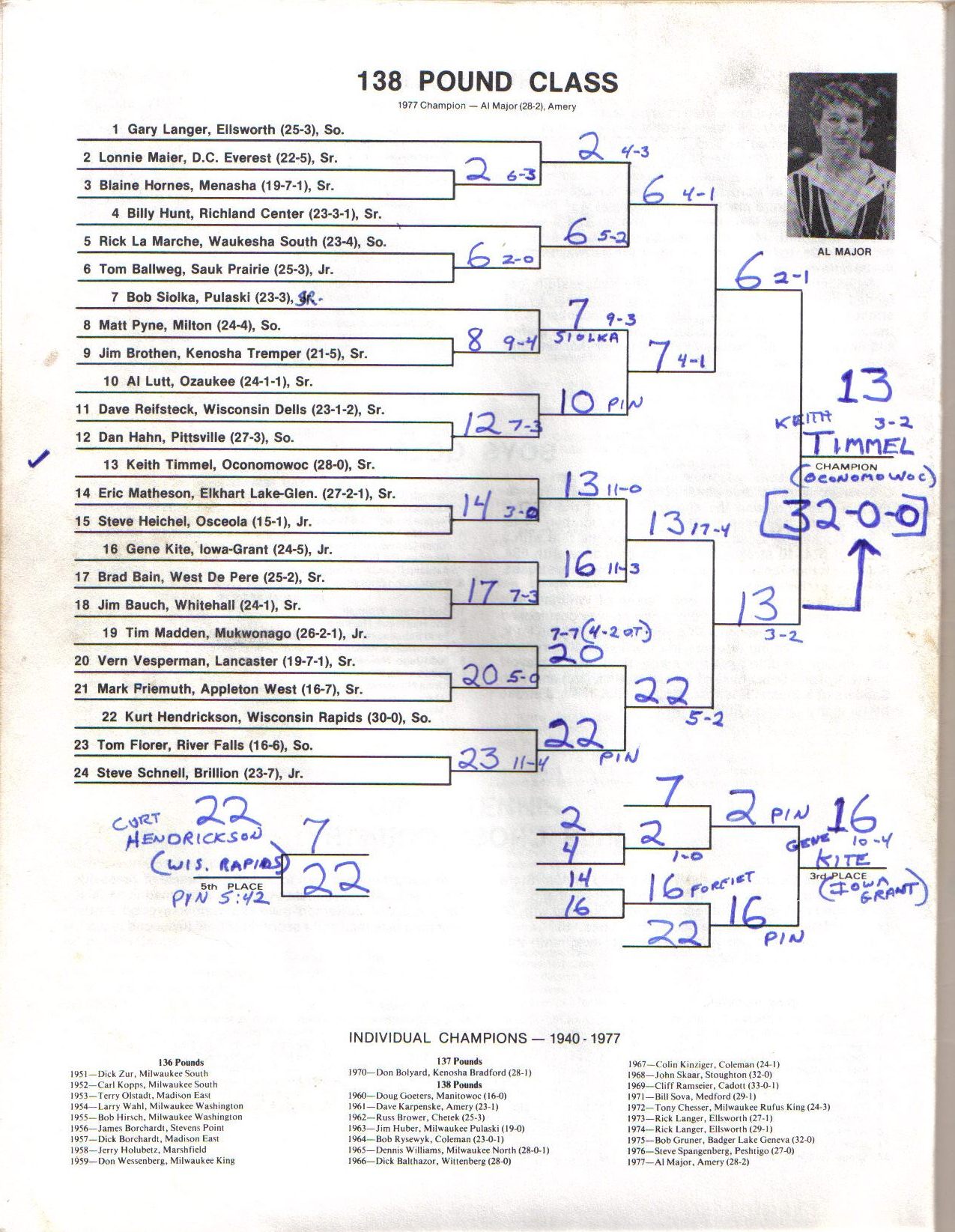 Jim Bautch's WIAA State Bracket
Season Notes:
40 Seasons Ago: "New Kid in Town" 1977-1978.... The Norsemen had a new coach in Greg Fahrman. Coach Borreson moved on but we'll be seeing him again in a few decades.
The table appeared to be set for a run at a conference championship, with a lot of experienced wrestlers coming back. Four all-conference wrestlers returned along with four sectional qualifiers made for a formidable team top to bottom in the line up.
The major team challenge to overcome this season was the injury bug. It hit pretty hard and made it tough to keep a thin lineup matched up in the Dairyland. Even in that situation the team successfully dispatched Alma Center, Blair, Eleva-Strum, and Mondovi. The team also placed high (6th) in both the Onalaska, and West Salem "Panther" Invitationals. The team finished the year in the middle of the pack with a 4 and 6 overall record.
Individual wrestlers made great runs for the W during the season and went deep in the postseason WIAA tournament series. Our consistent warriors in the Dairyland dual meets were Connie Gromoff, Gary Steinke, and Bruce Anderson. The big match winners of the season was Mark Koxlien with 17, Bruce Berg with 21 and Jim Bautch with an amazing 25 wins in this era.
At Onalaska, Bruce Berg and Alex Hernandez took second, and Mark Koxlien took third. The Norse also did well individually and the Panther Invitational with Bruce Berg again took second and taking third was Alex Hernandez and Mark Koxlien. In the Dalryland Invitational Jim Bautch took first and in third was Alex Hernandez and Mark Koxlien.
In the WIAA Tournament Series for 1977-1978 wrestlers had to qualify into the regional from a sub regional. Making regionals for the Norse was Alex Hernandez, Paul Sogla, Bruce Berg, Mark Koxlien, Jim Bautch. Surviving the regionals to get to sectionals were co-captains Mark Koxlien, Jim Bautch, and Bruce Berg.
The Norseman that made it the farthest for us was Jim Bautch. He placed third at sectionals and became the third Norse wrestler to get the honor to wrestle at State.
Overall this was a successful season for the Program. Even with the adversity, the Team was able to place high in the big tournaments, take out a number of Dairyland teams, get two all conference honors, four regional qualifiers, three sectional qualifiers, and another state qualifier for the history books.