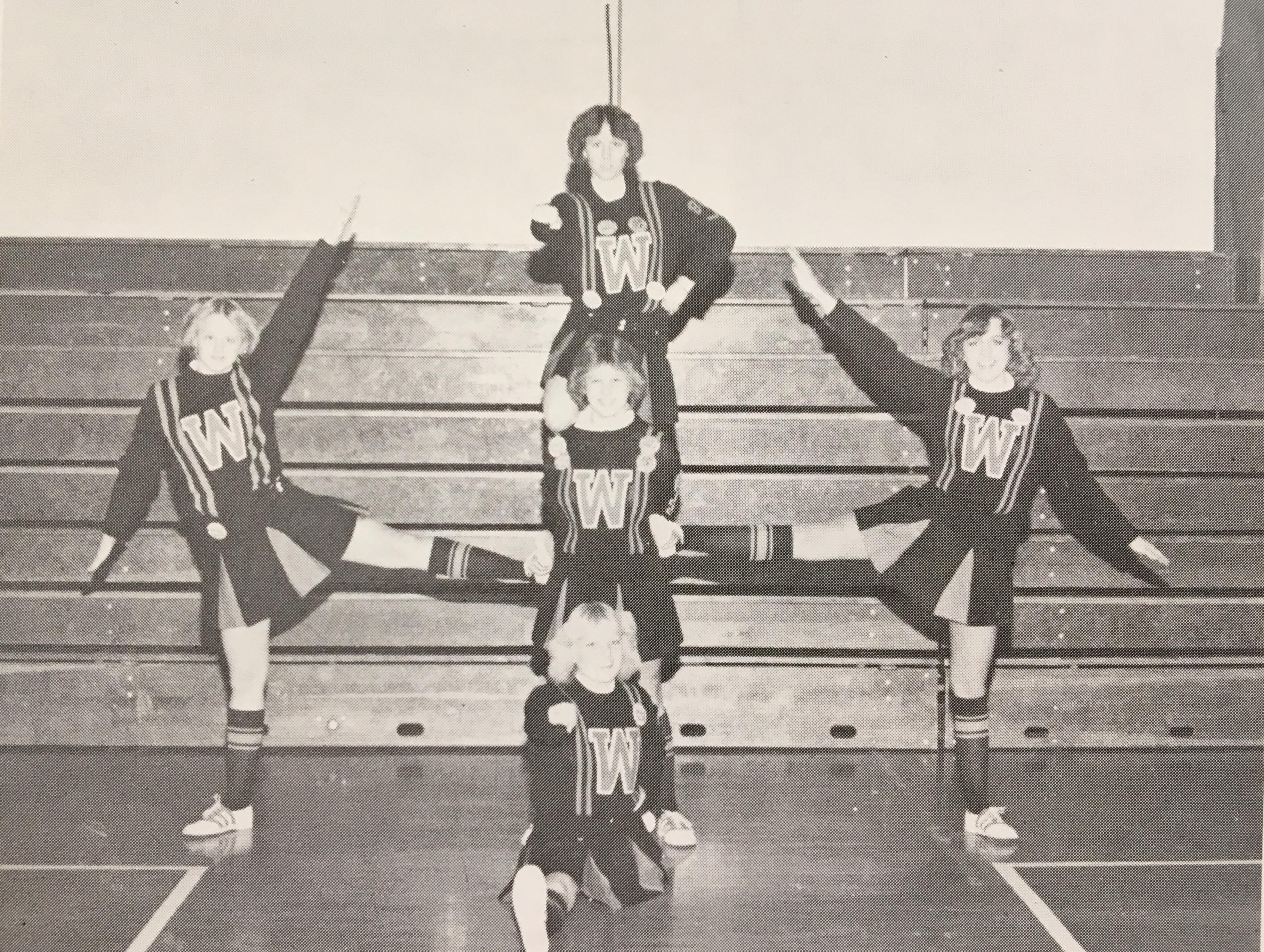 1979-1980 Cheerleaders: Left is Rhonda Berg, top center is Edna Steinke, middle center is Karen Faldet, bottom center is Liza Guse, and to the right is Brenda Hanevold.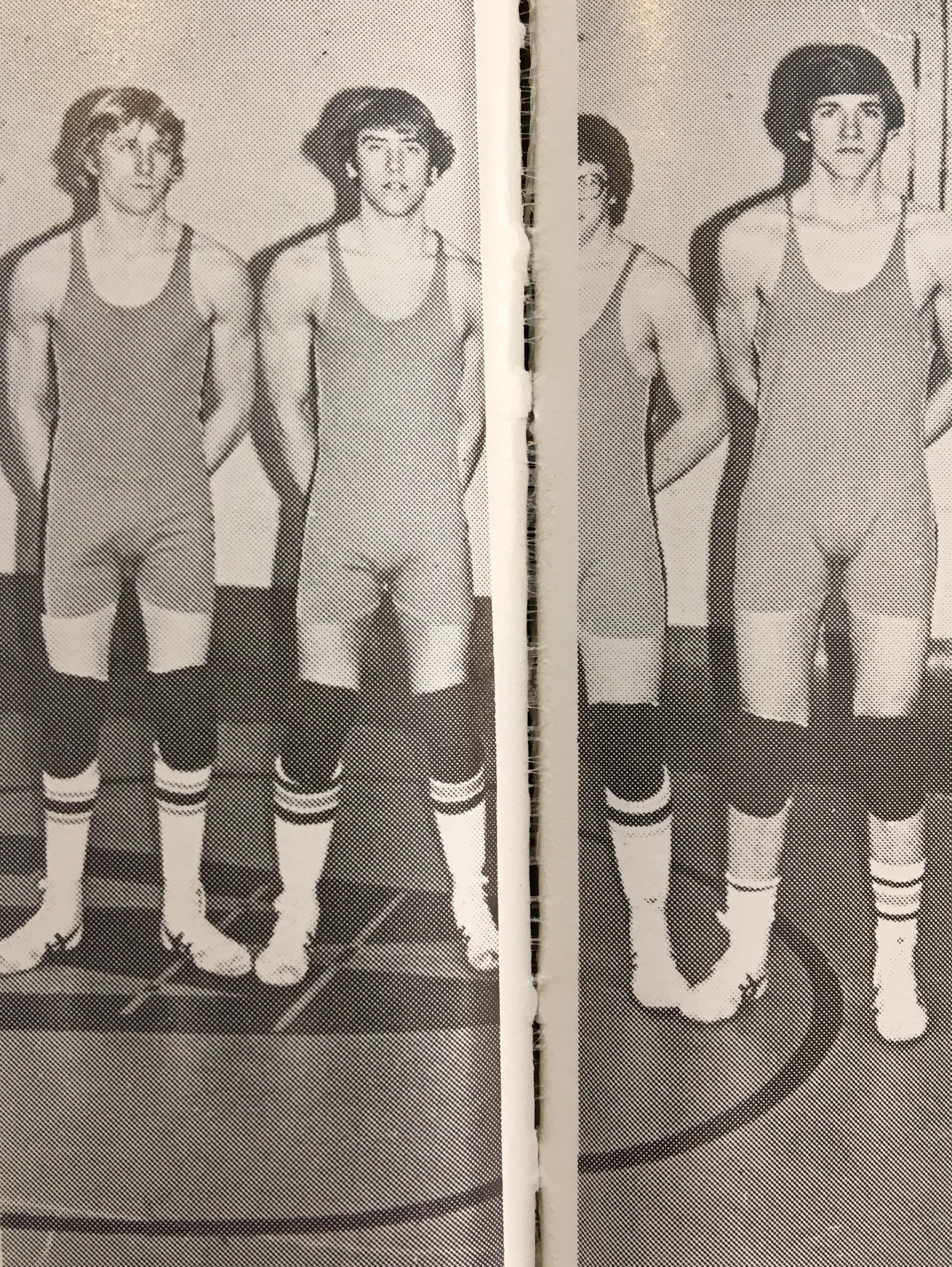 Seniors: Erich von Uhl, Gregg Kubisiak, Scott Kulig, and Dave Geibel.
Overall Record: 5 Wins - 3 Losses - 1 Tie
Notable Performers: Roger Bautch (16W-1L), Gary Steinke (21W-5L), Gregg Kubisiak (12W-3L), Dave Gardner (14W-7L-1T), Erich von Uhl, Scott Kulig, and Dave Geibel.
All Conference Wrestlers: Gary Steinke (#138, Roger Bautch (#HWT).
Sectional Qualifiers: Dave Gardner, Roger Bautch.
Duels:
Whitehall 34 vs G-E-T 34
Whitehall 31 vs Blair 30
Whitehall 32 vs Alma Lincoln 35
Whitehall 46 vs Central 17
Whitehall 33 vs Melrose-Mindoro 29
Whitehall 19 vs Independence 42
Whitehall 36 vs Augusta 15
Whitehall 39 vs Osseo 25
Whitehall 31 vs C-FC 31
Tournaments:
Onalaska Invitiational: Dave Gardner, Gregg Kubisiak 2nd.
West Salem: Gary Steinke, Roger Bautch, 1st. Gregg Kubisiak, 2nd.
Colfax: Gregg Kubisiak, Roger Bautch 1st. Dave Gardner, Gary Steinke 2nd.
Dairyland Conference Tournament @ Whitehall (9 February, 1980): Team placed 6th. Gary Steinke, Roger Bautch 1st.
WIAA Regional @ Blair: Dave Gardner, Roger Bautch, Sectional Qualifiers.
WIAA Sectional @ Kickapoo.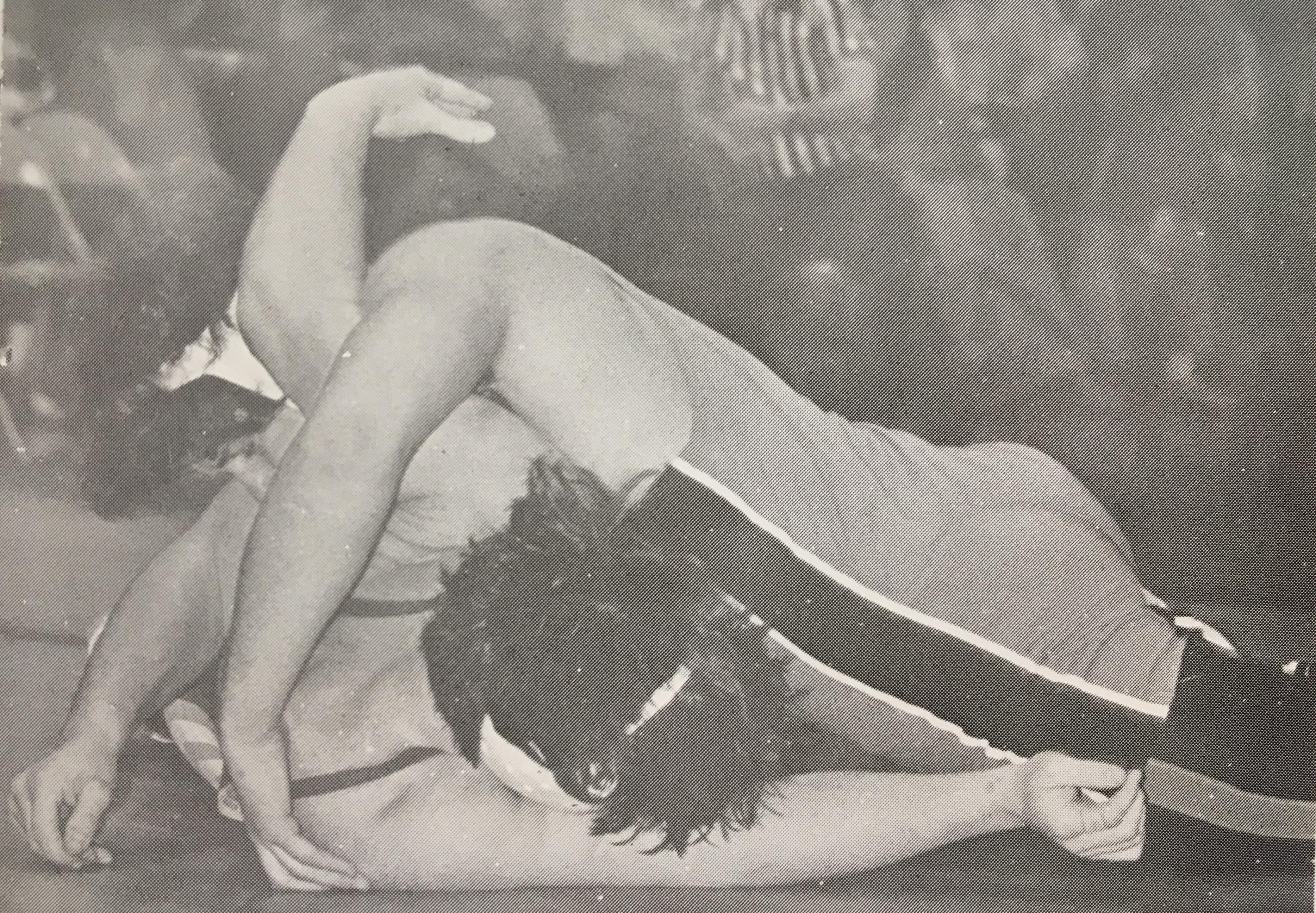 Scott Kulig on top finishing a half closing in on nearfall.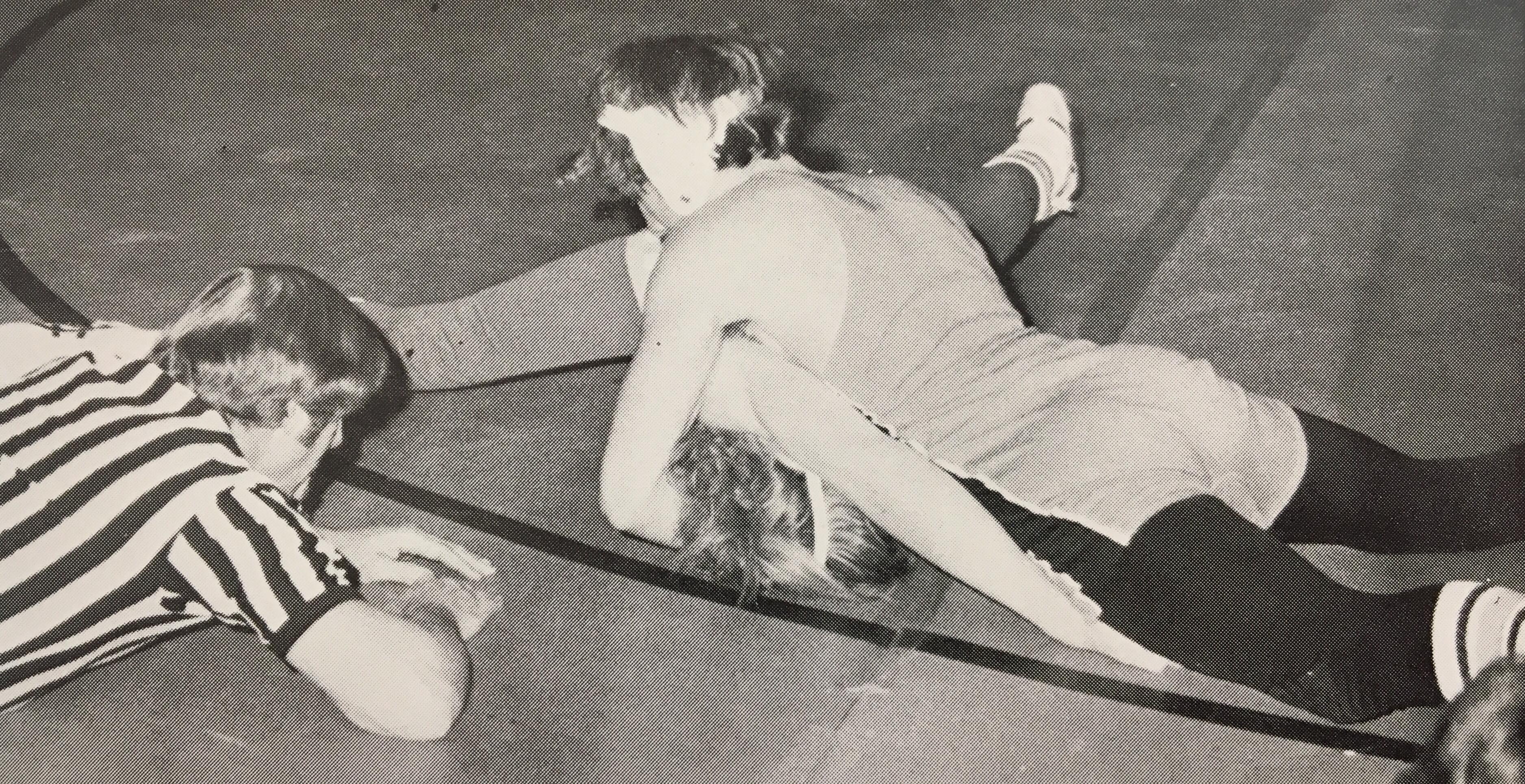 Dave Kubisiak (not varified) is close to a pin.
Roger Bautch (right) Is working towards a collar tie. Bautch was a sectional Qualifier this season.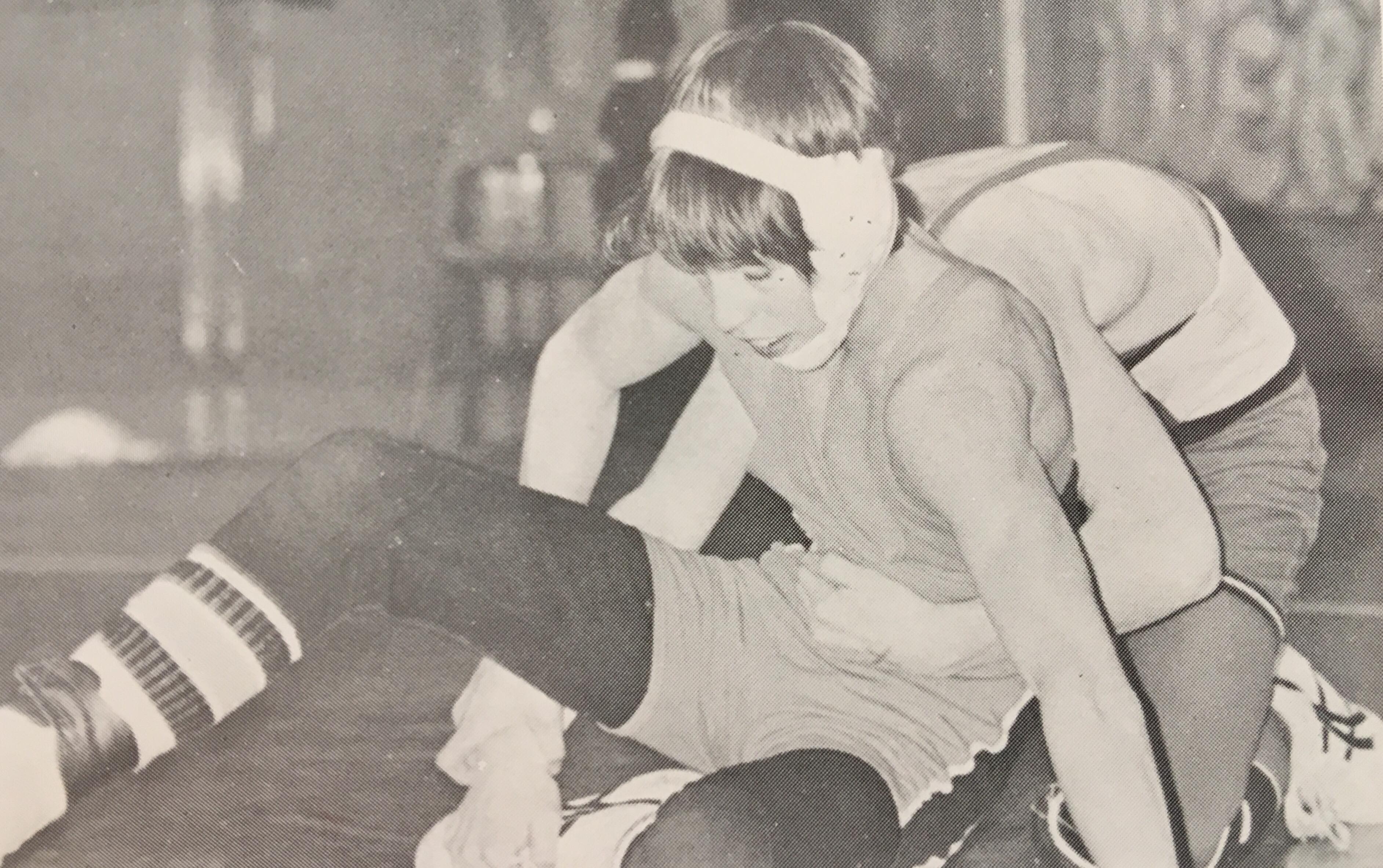 Dave Gardner escapes from the bottom. Gardner became a sectional qualifier as a freshman.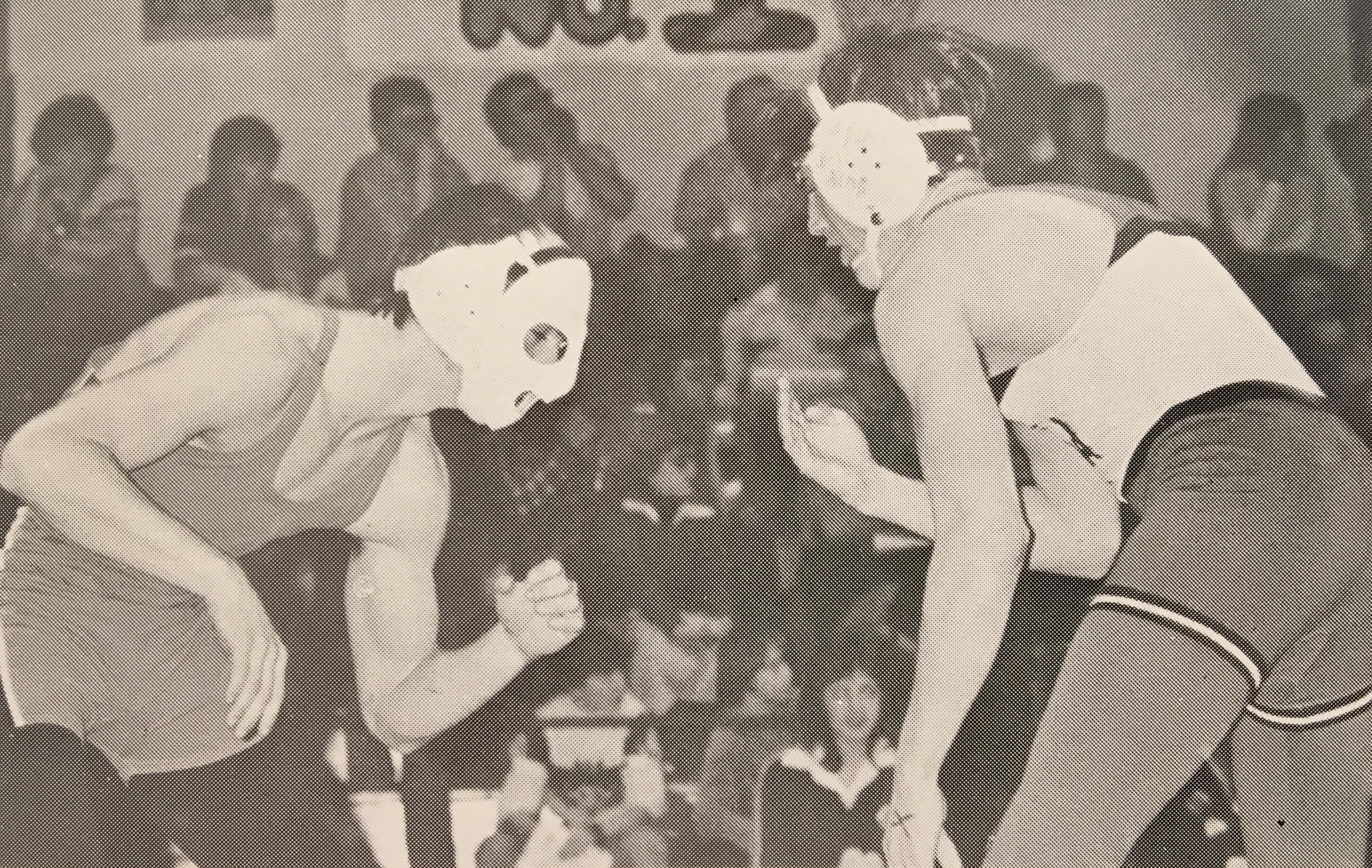 Gary Steinke (left) was a hammer in the area, taking the Dairyland Conference championship this season.
Season Notes:
40 Seasons Ago: "Rock and Roll, Here We Go!" 1979-1980.
It's time to get to business. Chuck Walek was signed on to be the head coach this season. It will be the first time in a long time that the Norse will have a head coach that is able to stick around for more than one season. In the last nine seasons the program had eight head coaches. There was a lot of talent on those previous teams that could have flourished with long term support guiding their training. No more! In the next 40 seasons there will only be four dedicated head coaches. Walek, Hauser, Borreson, and Peterson. Time to start building for the future!
Right away there was a change in business. 22 wrestlers came out to participate this season. The most in many years. Our wrestlers for the 1979-1980 season were Gary Steinke (#138), Gregg Kubisiak, Dave Steinke, Dave Geibel, Scott Kulig, Roger Bautch (#HWT), Dave Gardner, Kevin Dubiel, Al Phillipson, Dave Kubisiak, Scott Bedward, Erich von Uhl, Bob Alexander, Dave Helgeson, Ed Slaby, John Gardner, Mike Blaeser, Todd Bedward, Dan Pucik, Mike Haines, Joe Carty, and Jim Phillipson. Our cheerleaders were Rhonda Berg, Edna Steinke, Karen Faldet, Liza Guse, and Brenda Hanevold.
Coach Walek gave the team a stability to build from which they used to put together a 5-3 and 1 dual record. led by senior captains Gregg Kubisiak and Erich von Uhl and seniors Scott Kulig and Dave Geibel, the gang took wins from Blair, Eleva-Strum, Melrose-Mindoro, Augusta and Osseo. In nearly every dual, the team was competitive and even in the losses the guys created opportunities to win right to the end.
In tournament action the team fought to middle of the pack most weekends. In those tournaments the big dogs for the Norse ate. At the Onalaska Invitational Dave Gardner and Gregg Kubisiak took silvers establishing themselves in the area with those performances. At West Salem Gregg repeated his second place performance and was joined by Gary Steinke and Roger Bautch who took firsts. It was at West Salem that Whitehall was getting noticed as legitimate contenders and as a team to watch. At the Colfax tournament the elite hunt and kill team of Gregg Kubisiak (1st), Roger Bautch (1st). Dave Gardner (2nd), and Gary Steinke (2nd) tore the place up like a hair metal band in a hotel room.
On to the end of the season tournaments. The Dairyland Invitational held at Whitehall this season is the capstone event for the local teams and in it the Norse solidified themselves as future contenders with a strong middle of the pack finish. Individually Gary Steinke and Rodger Bautch were area champions. The WIAA Tournament series of 1980 started in Blair at the Regional where Dave Gardner and Roger Bautch waded through their enemies and became sectional qualifiers. The sectional was held at Kickapoo where the boys fought hard but were held up a couple matches away from the State Tournament.
This 1979-1980 team is an important one. From here forward there will be stable leadership from the head coach position. For the next two seasons Coach Walek will create stability and lasting expectations for the Norse, that our next legacy coach can build from.
?? Days until the 2019-2020 season starts.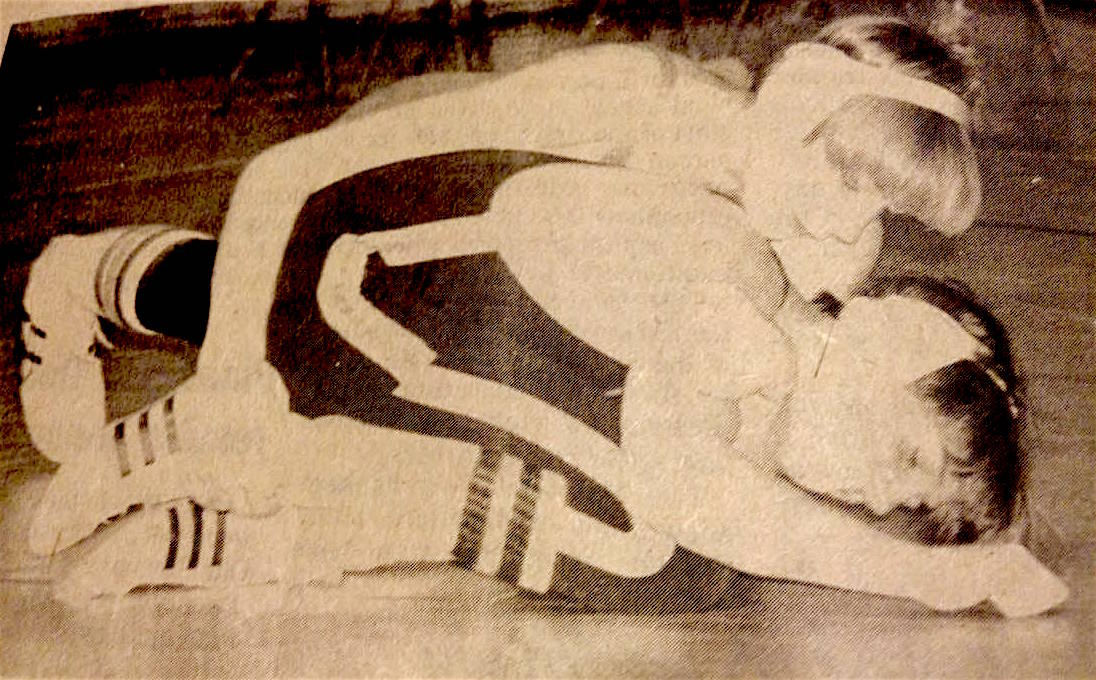 Dave Kubisiak in Control.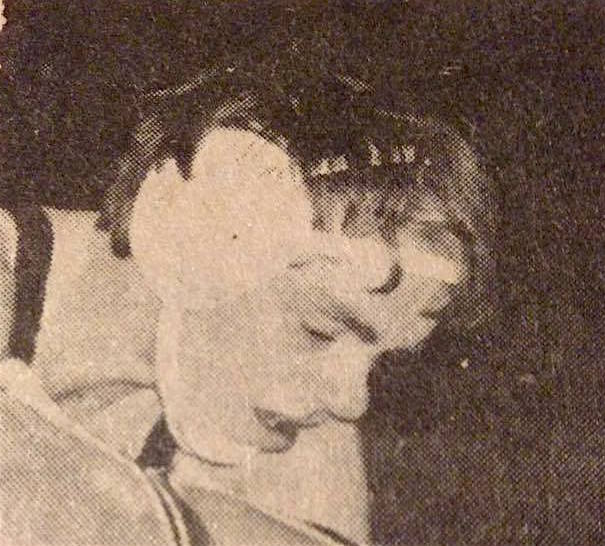 Unidentified Wrestler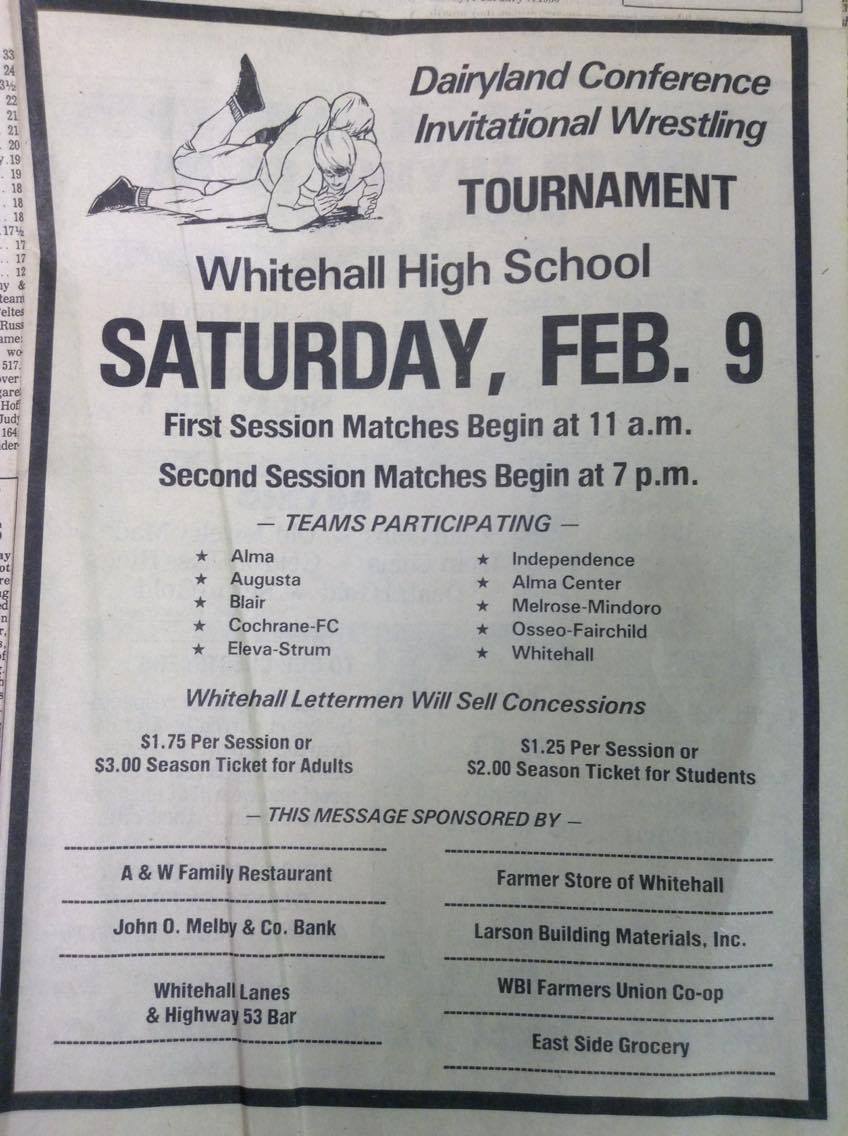 Whitehall Invitational Ad in the Whitehall Times.