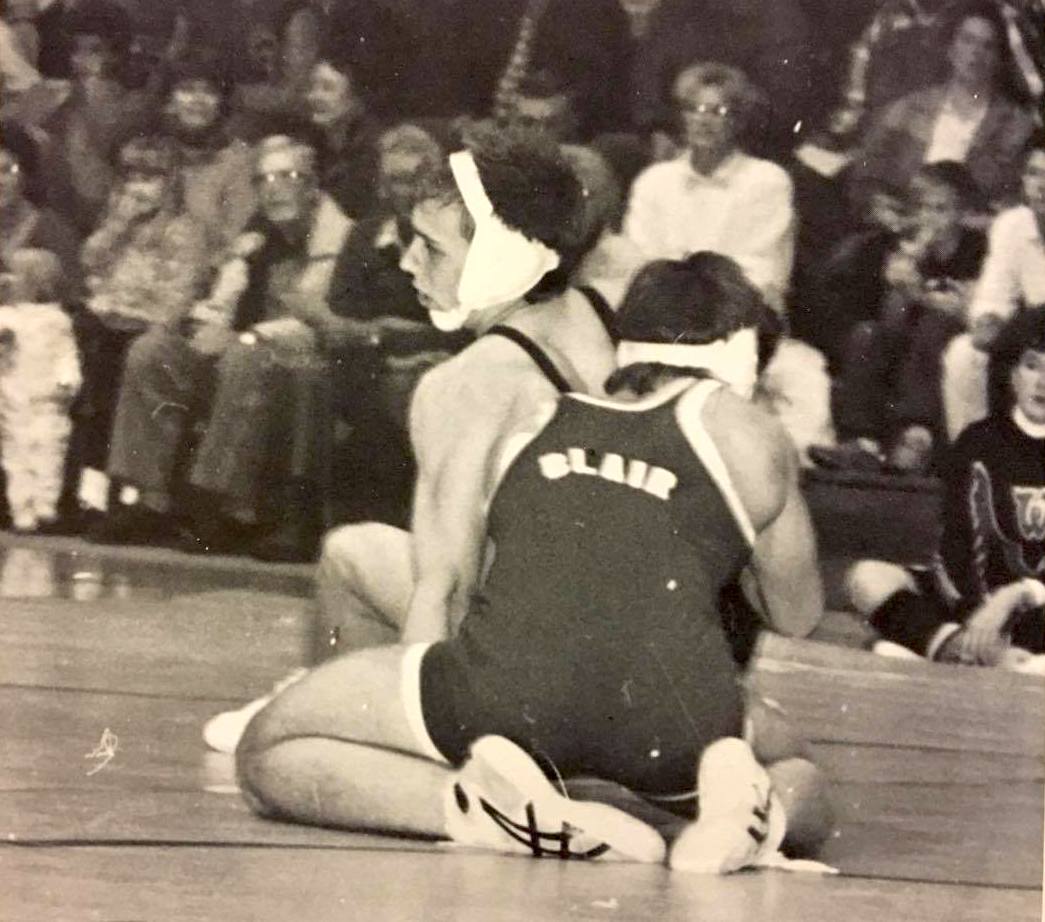 Brian Gabriel escaping from a Blair wrestler.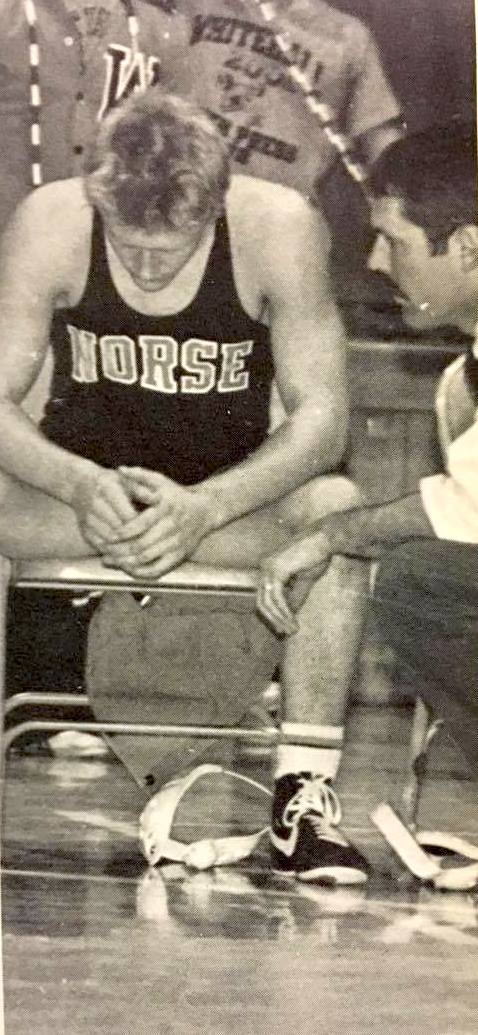 Keith Schaefer recovering from a tough match.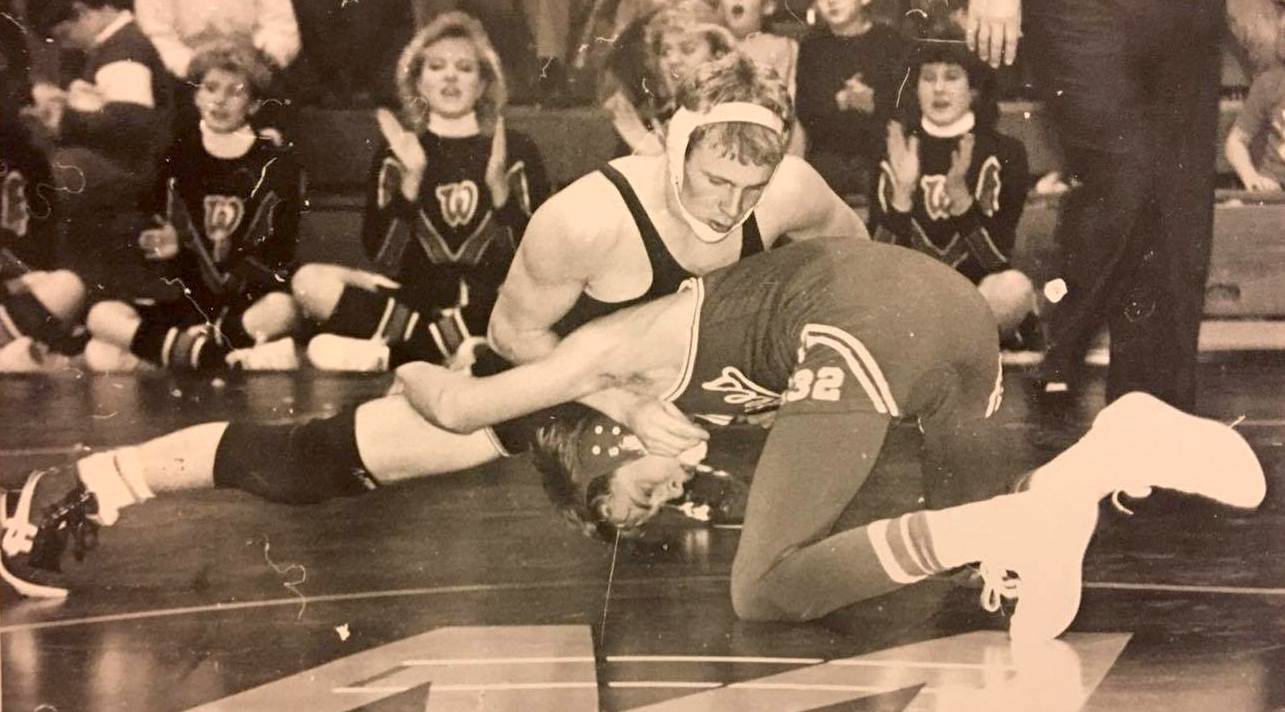 Pete Foss with a hard sprawl.
Season Notes:
30 Seasons Ago: "Roll With It" 1987-1988....
Coach Hauser and Assistant Coach Helgeson had their work cut out for them this season. With the loss of six veteran wrestlers from the year before, the program was in transition as their older wrestlers were taking the reigns of the team and their younger talent was adjusting to the high school level of competition.
The 87-88 team had warriors Brian Gabriel (Captain), Aaron Passa, Boyd Lambrigtsen, Dave Lyngen, Keith Schaefer, Craig Thompson, Mike Sosalla, Jim Deering, Jim Powell, Clark Kulig, Jeff Elliot, Andy George, Stuart Phillipson, Pete Foss, Matt Koxlien, Jerry Leque, and Dan Guse.
There was a race to get the wrestlers ready for the duel season and the deadline was the Christmas break. Stanley-Boyd, Independence and Mel-Min were loaded with buckshot some big city tournaments and the Triple Dual with powerhouse programs in Onalaska, Royall, and West Salem on the horizon. The wrestlers answered the challenge. They were all young but they knew how to work. The new black mat bought by the Booster Club this year was full of sweat.
The first duel of the year was against grizzled Cloverbelt residents Stanley-Boyd. The Norse showed their potential by winning convincingly 48 to 16. Our Norsemen ended the dual season 4 and 8 but not before taking out Alma Center, Onalaska and West Salem.
The team did better in those big tournaments Placing 7th at the Eau Claire Memorial Invitational, 6th at the West Salem Invitational and 4th at the Onalaska Invitational.
Leading the Norse in the post season was Pete Foss, punching a hole in the conference to get to Sectionals.
The Cheer Squad this season was a great group of people consisting of Melinda Sharlau, Sara Peterson, Renae Helstad, Barb Lombeck, and Tammy Thompson.
At this time in program history Coach Hauser said the school community was really there for the wrestling program. The Program was filled with people who were dedicated to the sport and were willing to work hard. It was only a matter of time before some big winning runs start forming. The Program is on the correct trajectory Onward and upward.
*New black mat was purchased. $5800 with booster club funds. First used in the Independence duel. In that first duel an Indee kid puked on in. The mat was a sign the School Community had faith in the program.
Tough schedule this season. Stanley-Boyd, Independence and Mel-Min were loaded for bear. The team scored well in individual tournaments.