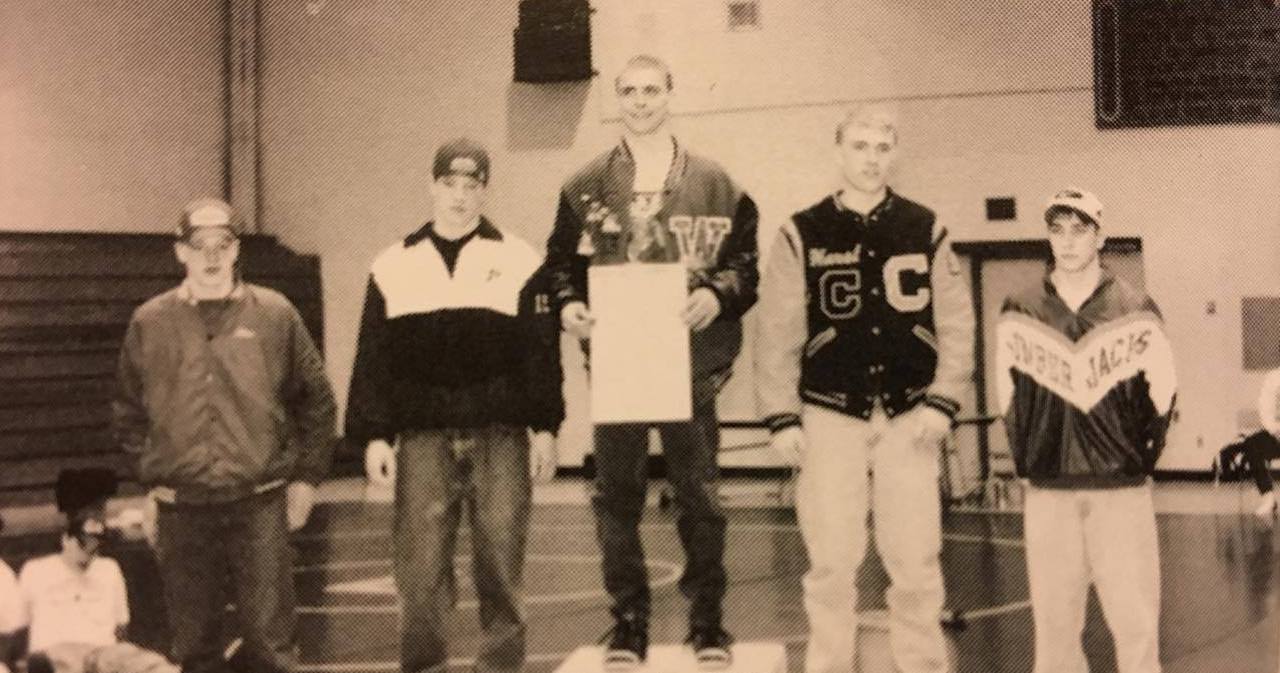 Lee Meinerz takes podium at Ladysmith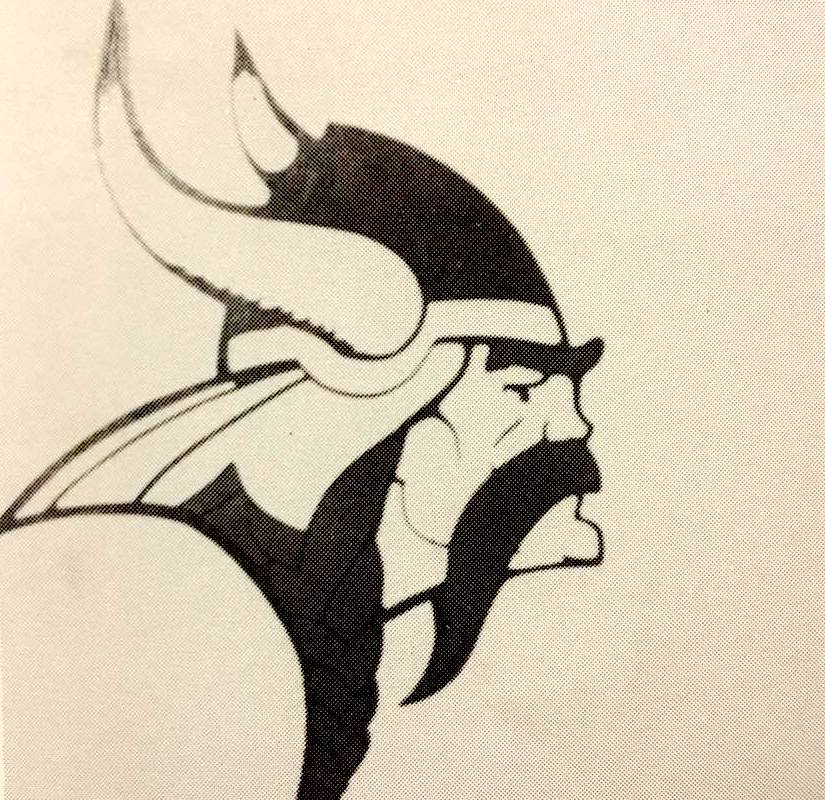 1990's Norse Head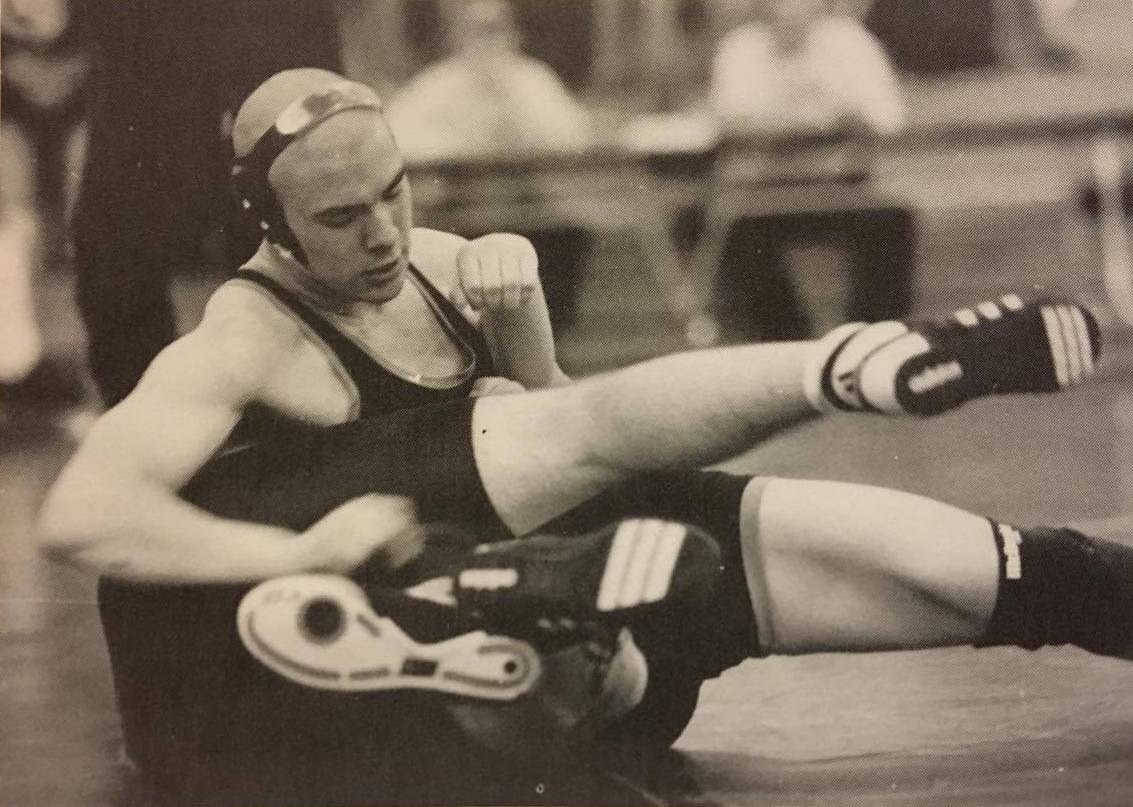 Cyrus Getts finishing a reverse for two.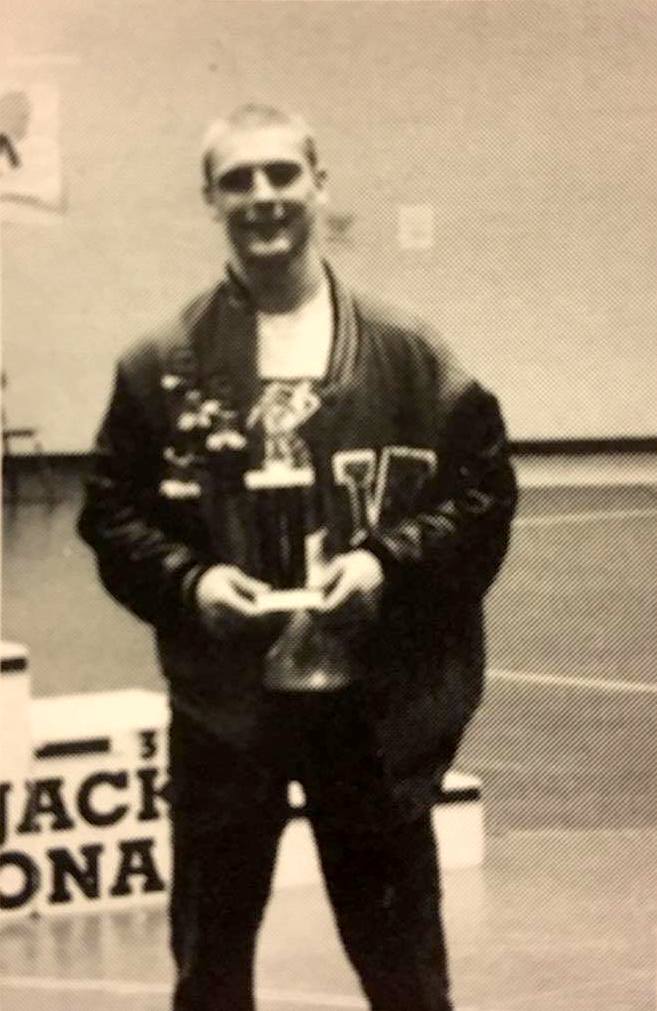 Lee Meinerz is the most valuable wrestler at Ladysmith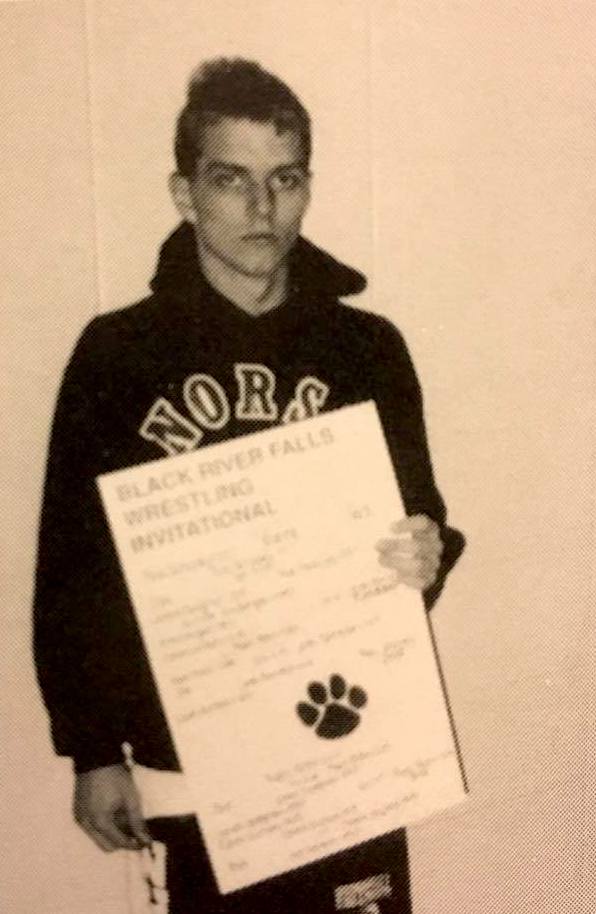 Josh Borrseon Takes the Black River Falls bracket.With that stare down from the Man; You best keep your distance.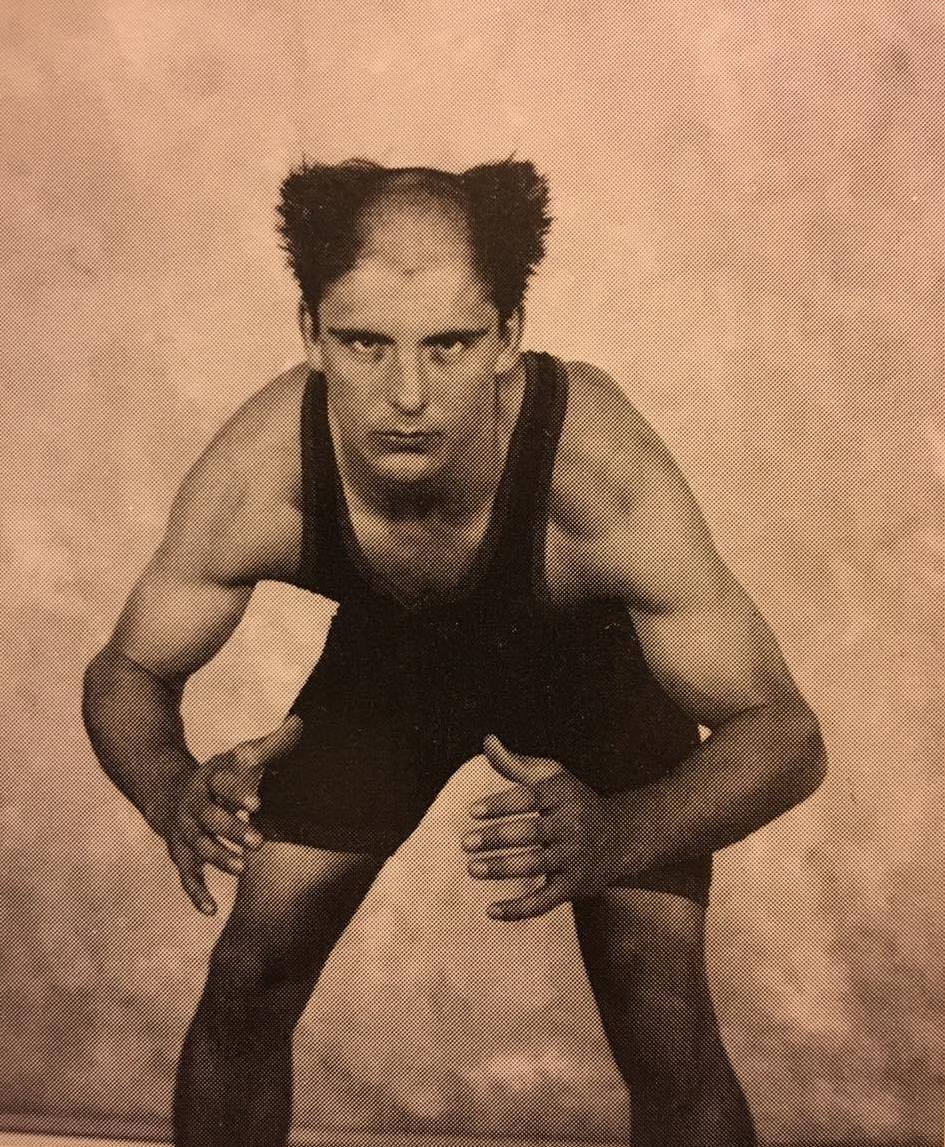 We don't know what this is. Ask Lee.
Season Notes:
20 Seasons Ago: "Victory" 1997-1998....
You Grind... You Win.
Coach Hauser said when he first took up the mantle of leadership from Coach Walek in the early '80's he wanted three things that he felt was holding up the program from the next level of success: 1) He wanted money for an assistant coach, to help build wrestlers. 2) A second mat to promote growth in participation at Whitehall. and 3) New uniforms to show that the community loves their wrestlers. You Grind to your Goals, you get what you need. All of those things came to the Program in those next seasons ..... Build a base.... base up.... keep moving for advantage....
Coach Hauser added a legendary Norse wrestler to the coaching staff in Coach Brian Borreson. Borreson had been building a youth movement for Coach Hauser in the minor leagues and that investment had paid off in this era. Mark Helgeson, Stuart Dodge in the '80's, and Tony Brickner in the 1970's has to be put in that category as well. They are the unsung hero's in every era of wrestling on any given team in the state of Wisconsin. Coach Helgeson had an employment change that ended a decade long run as assistant coach.
This 1997-1998 team is approaching the apex of the Hauser Era. One more season and Coach will turn the Program over to the next Era, and this was a great season.
The Men of the 1997-1998 season were Tim Saarem, Andrew Goehener, Nathan Semb, John Halama, Cyrus Getts, Mike Estenson, Josh Borreson (31-2), Andrew Hanvold, Lee Meinerz, Ryan Mickelson, Tom Guenther, Jeff Nelson, Kendall Kulig, Eric Kulig, and Troy Guenther.
Our loyal Cheer squad was made up of Elizabeth Hauser, Alyssa Glanzman, Megan Bender, Tricia Austin, Angie Hemmersbach.
This group was 6 wins and 2 losses on their way to a co-conference championship in the Dairyland. Their seventh 1st or 2nd place finish in an eight year run.
"Those three - Estenson, Meinerz, and Borreson - were very tough lower weights who usually gave us a good lead in our dual meets." -Coach Hauser.
We are still researching this era to learn the story of this team in the duels and tournaments. What we do know is Meinerz was the Most Valuable Wrestler at the Ladysmith Invitational that year. Ladysmith was our first tourney after Christmas and Lee was in great shape. He had a tech fall against the top seed of the day and dominated in the championship bout. Estenson had a particularly good conference championship match against Justin Blaken of Mel-Min. Joshn Borreson had an amazing thirty-one wins that year and won the Black River Falls tourney.
In the post season we sent four Norse to join the sectional's best of the WIAA in Josh Borreson, Lee Meinerz, Mike Estenson, and Ryan Mickelson. junior Ryan Mickelson had a great sectional. He placed third behind two returning state qualifiers. He pinned his first man using a spladle. He also pinned an outstanding Spring Valley senior in the semis by plowing him over out of a whizzer situation. The WIAA only took the top two wrestlers to state at this time otherwise Ryan would have moved on in the modern era. Meinerz took third also; coming short in overtime to an Elmwood/ Plum City wrestler. Lee pinned his wrestleback opponent to earn that chance to wrestle off for second for a state birth.
There is more to this story to research, but what we do know is these guys lived to wrestle and pushed the team to durational levels of success the Program never knew before. Your work was good and you added to the long term prosperity of the Program. Thank you wrestlers.