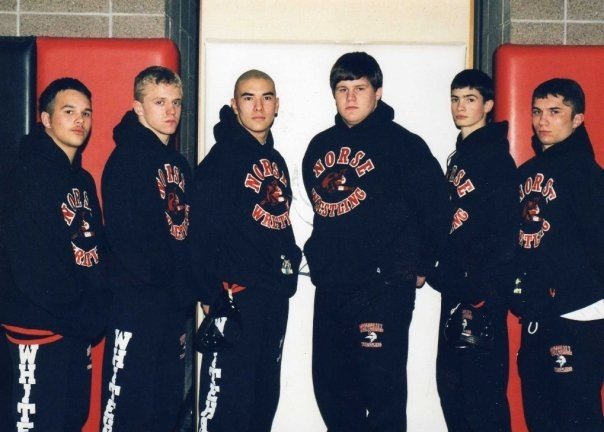 Seniors. Left to Right: Jeff Nelson, Ryan Michelson, Cyrus Getts, Nathan Semb, Tom Guenther, Eric Kulig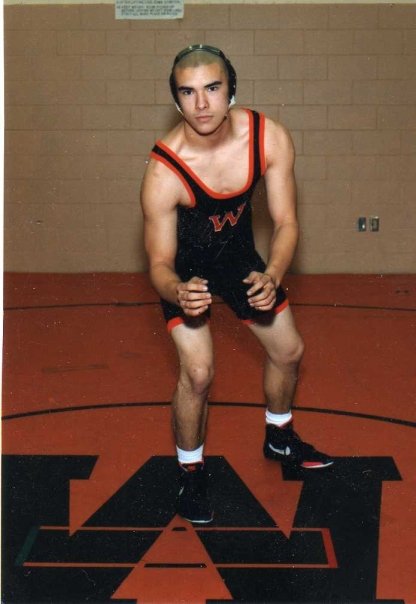 Cyrus Getts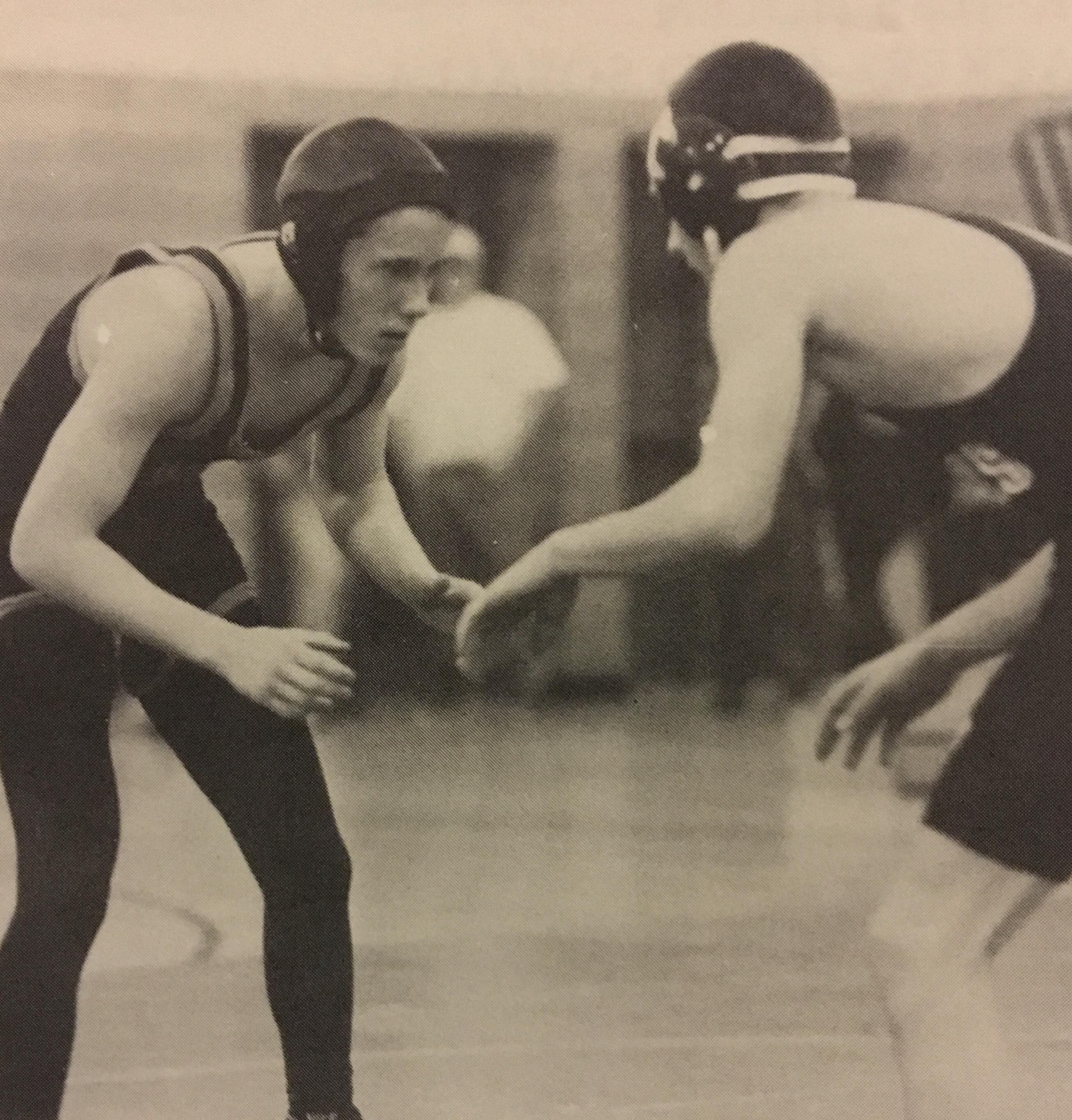 Troy Guenther locks in on his opponent.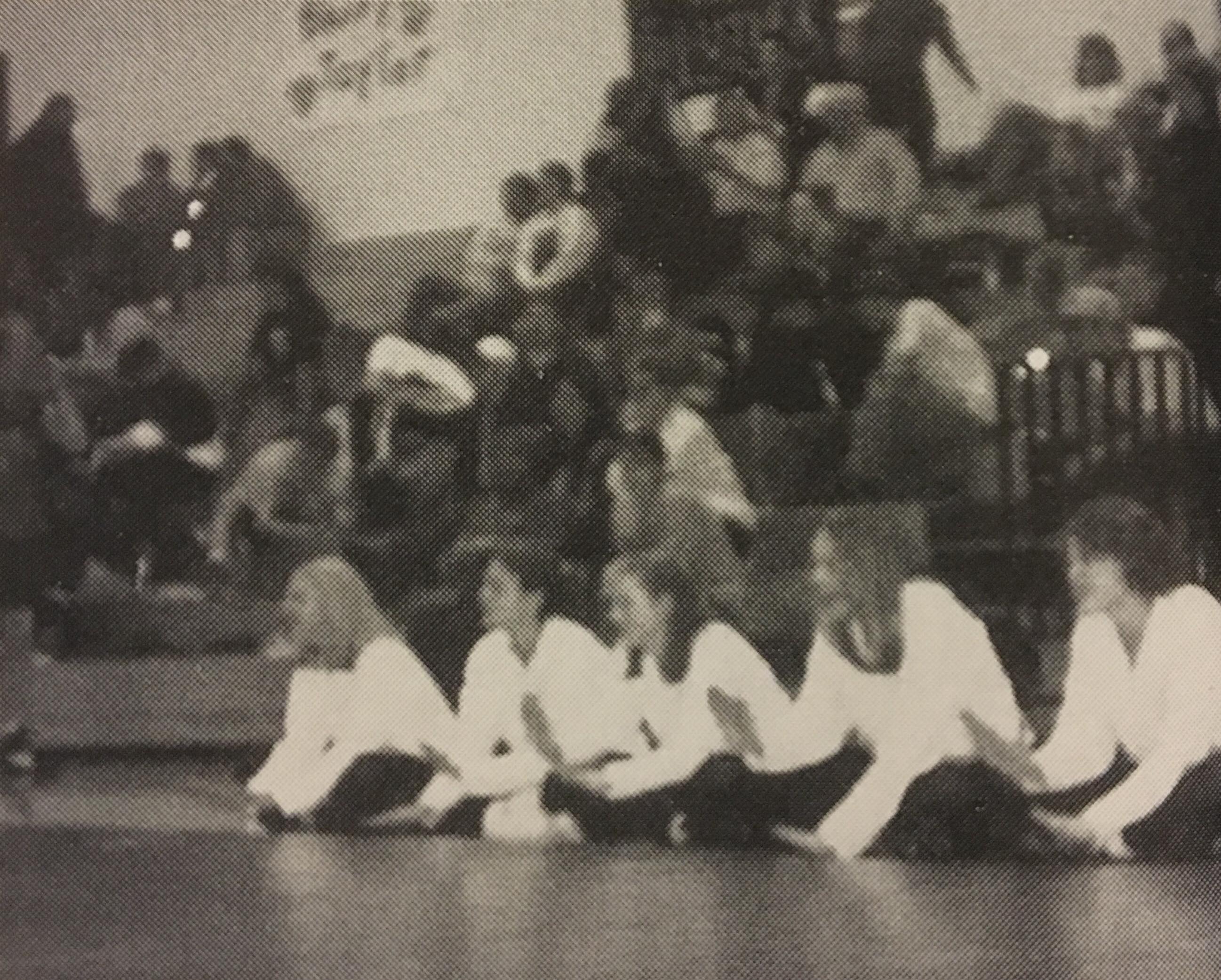 Cheerleaders in Action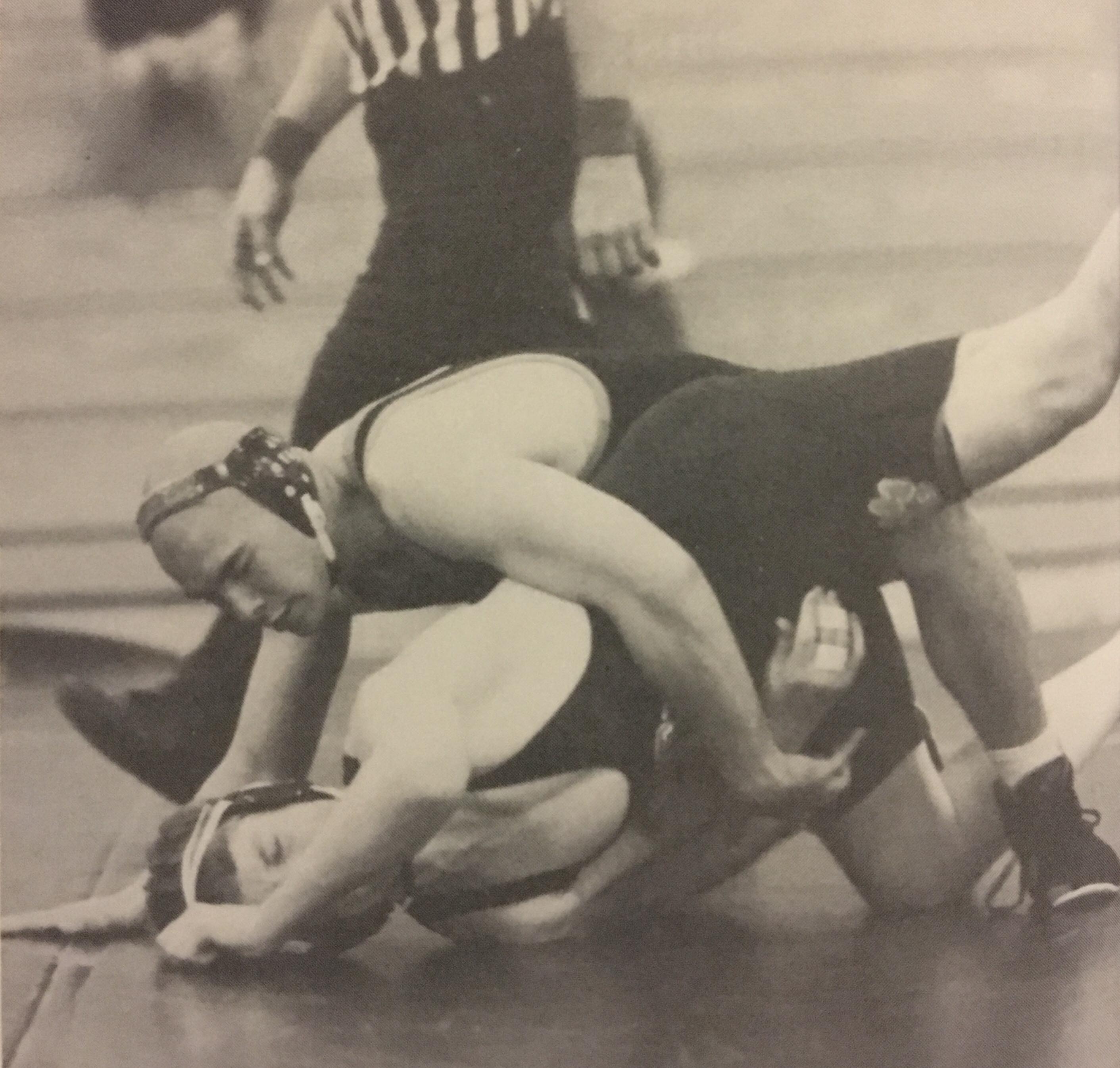 Cyrus Getts with a cross-wrist.
Season Notes:

20 Seasons Ago: "Crush 'Em", 1998-1989.
This is Coach Hauser's last season as Head Coach of the Norsemen. His teams hadn't had a losing season in nine years and this season was no different. The team ended up 5 wins 3 losses and 1 tie. At this time there is no tiebreaker criteria in duels. The tie was against rival independence in a 33 to 33 war. This eventually turned into a tie for second place in the Dairyland Conference.
The team was lead by seniors Ryan Mickelson (#152), Jeff Nelson, Nathan Semb (HWT), Cyrus Getts, Tom Guenther, and Eric Kulig. Joining them in battle was Bryan Franson, John Halama, Branden von Uhl, Riley Kupka, Tony Saarem, Brad Steinke, and Troy Guenther.
The wrestling cheerleaders returned several members giving experience to the program and doing a lot of behind the scenes work for the team. Cheerleaders this season were Liz Hauser, Lesley Back, Becca Ziebarth, Megan Bender, Amy Siddons, and Alyssa Glanzman.
At this time we have not found a lot of results for the 1998-1999 season. We know this was a tough team who was in every duel. The Independence tie was a physical battle and became a pivotal decision in the Dairyland Conference race.
At the end of the season, Nathan Semb was named a Dairyland All-Conference member. He was close to qualifying for sectionals but was tripped up in a key match against an Arcadia wrestler.
The Norseman that survived the farthest for 1998-1999 was Ryan Mickelson. He was reported to be a tough wrestler, undersized for #152 but a great technician and had a high revving motor. In one match he was down by 10 points and gets the win with a pin off a spladle. Ryan was a sectional qualifier this season.
In terms of history, this marks the end of the Hauser Era, the longest, successful period of time in Norse wrestling history. The Hauser Era ends after 17 seasons, 112 duel wins, 3 conference championship teams, 4 runner up teams, 1 state qualifier and 2 Norse wrestlers that made college programs. This in one of the most competitive eras in Wisconsin wrestling history. Have no fear over this loss of leadership. Coach Borreson, a former Norse Head Coach and our first state qualifier will lead the Program next season and take us to the modern era.
Talking to Coach Hauser, he said he felt it was time to move on after the 1998-1999 season. His kids were getting older and he wanted to be involved more in their lives. He felt the program was in a good place. This is what he had to say about the last 17 years... "We had great team runs... We had solid teams, tough individuals and support from the assistant coaches and cheerleaders for many years that lead to the success of the wrestling program. I am very proud of all of their efforts." ?? days until the 2018-2019 season.