Caleb Tamke on the attack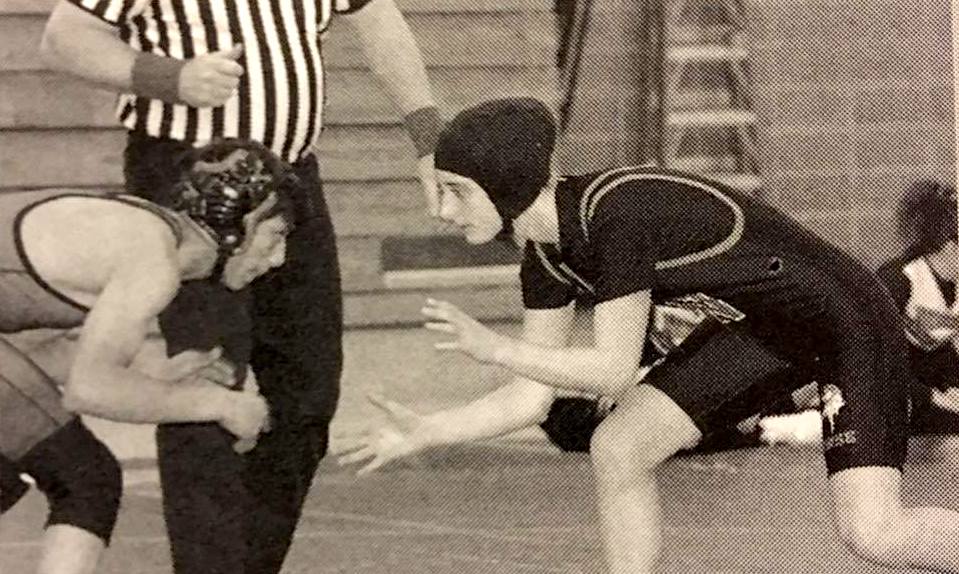 Cassie McAnallen; Whitehall's first female wrestler.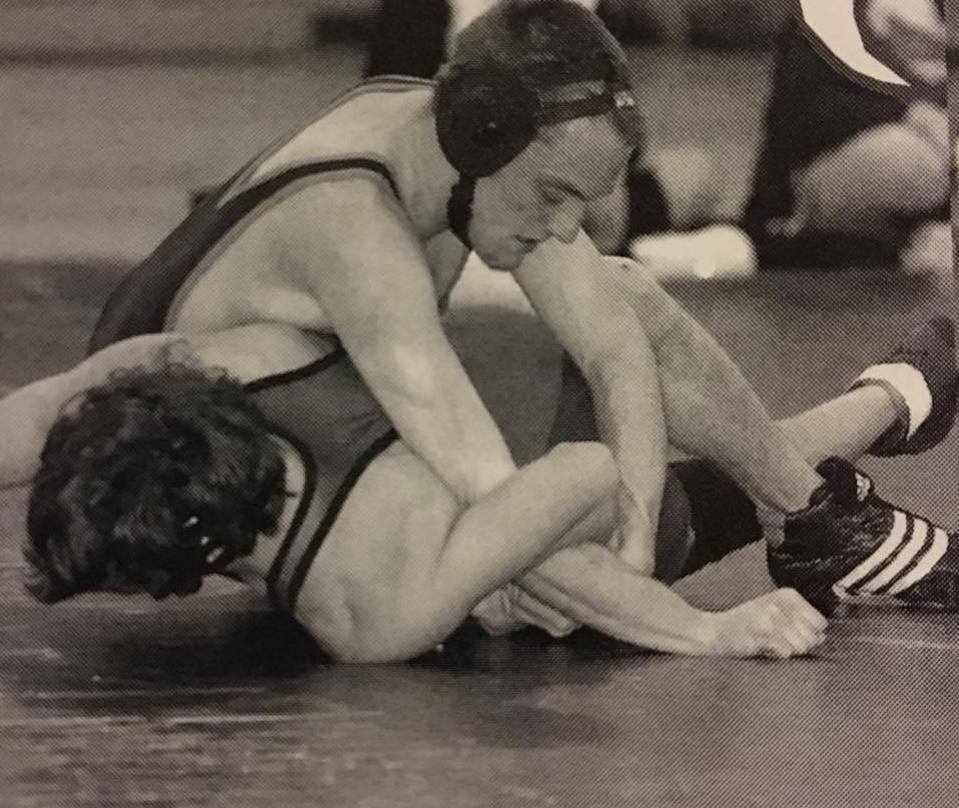 Derrek McAnallen Laces up an opponent.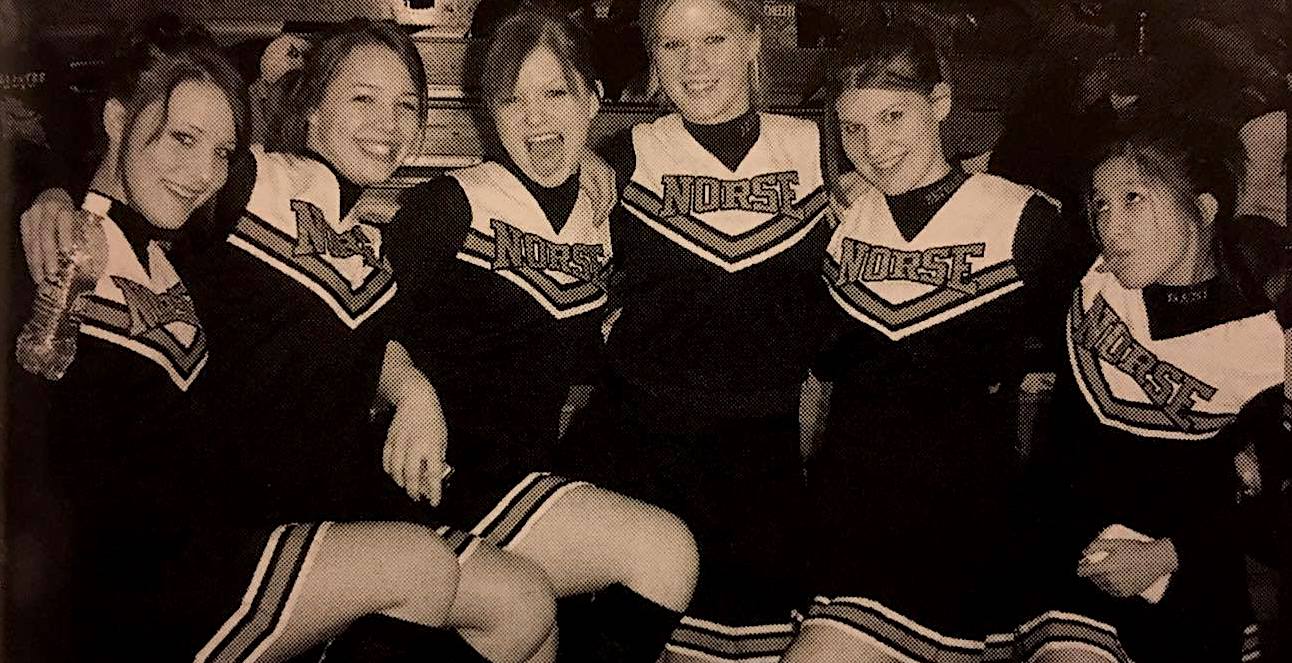 Fun group of kids.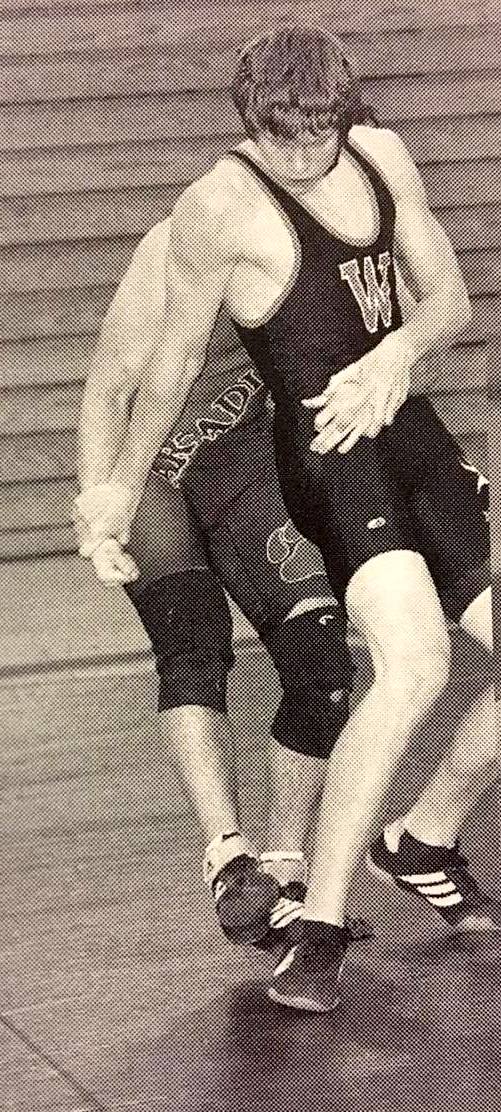 Cole Myren is Close to an escape.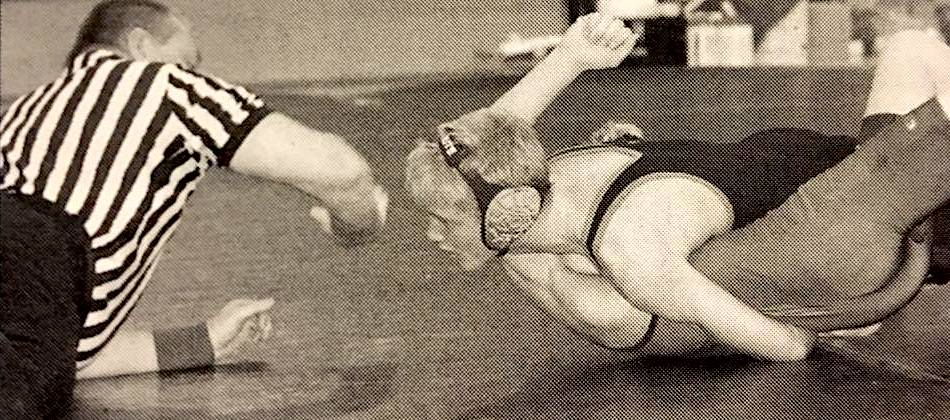 Justin Bloom is about to put away his guy.
The Cheer Squad at the Holiday Tournament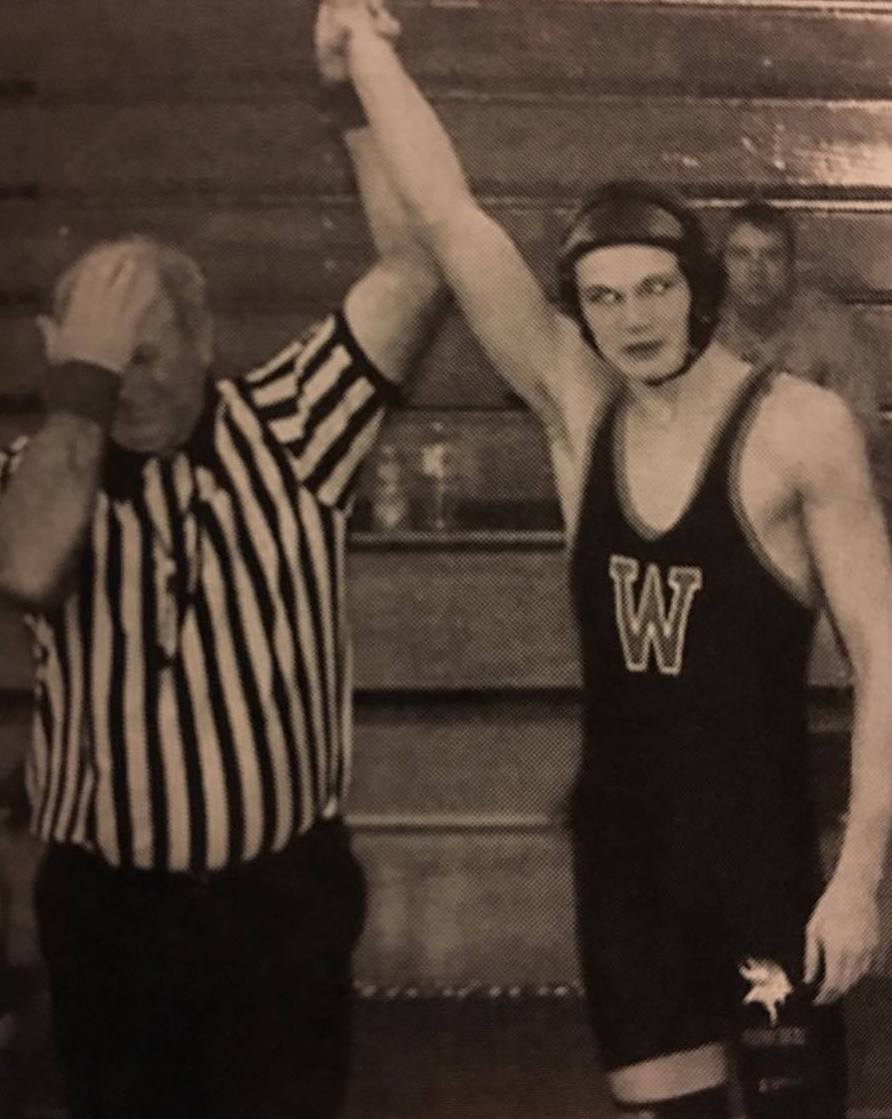 Nate Brown gets another win.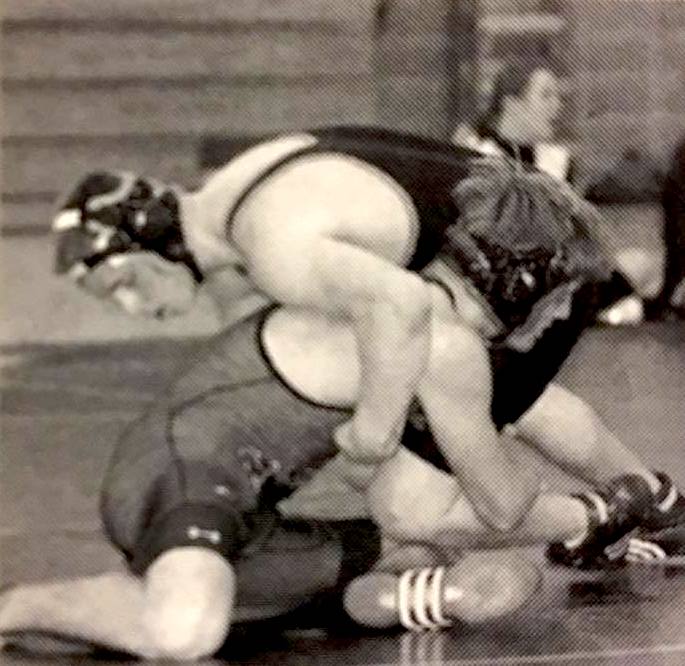 Chad Stellpflug in a scramble.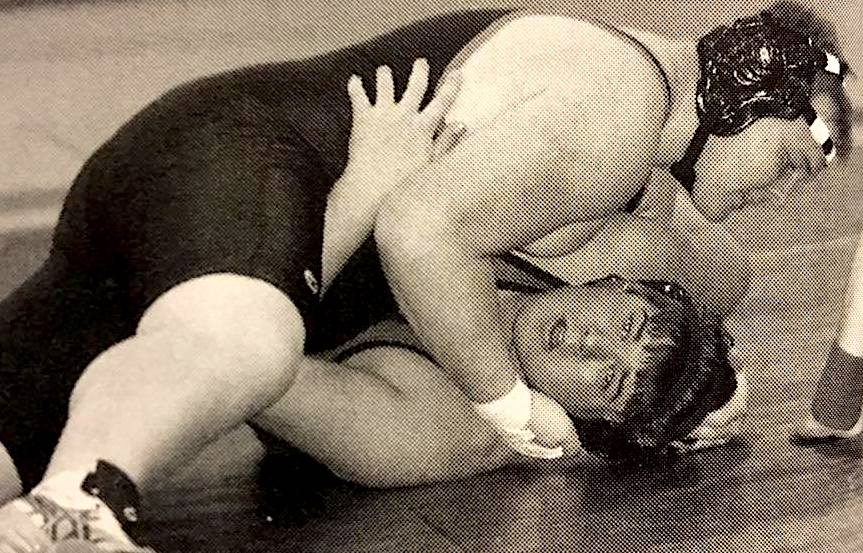 Dillon Sylla showing why he was rookie of the year.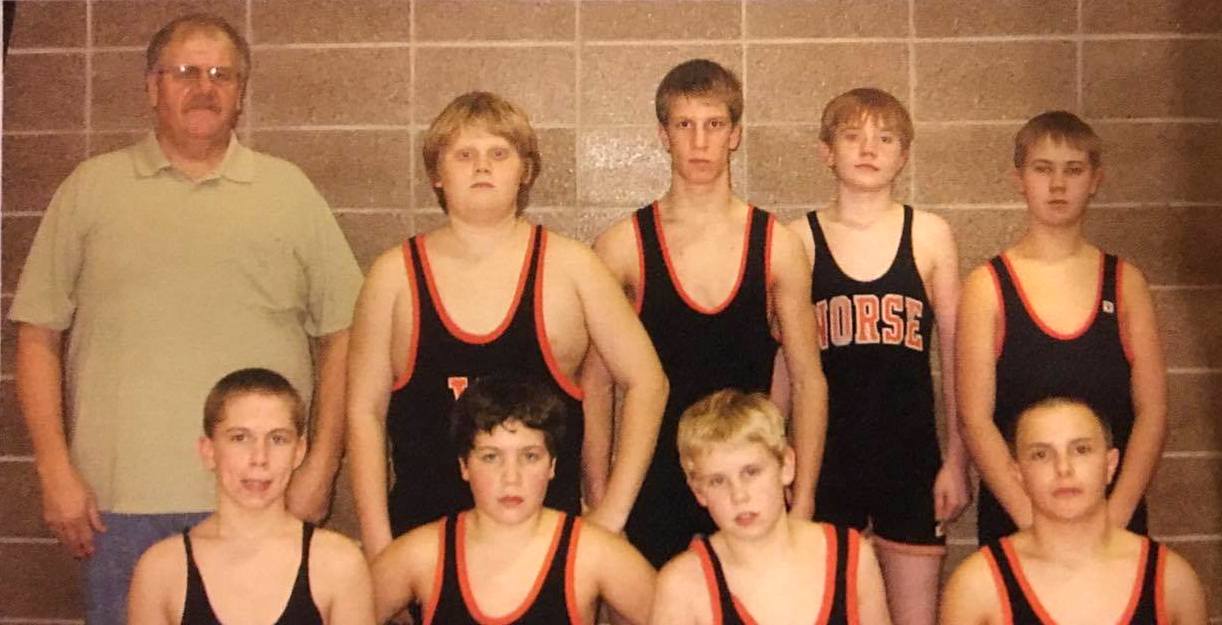 2007-2008 Junior High Whitehall Norse Wrestling Team Top Row (L to R): Coach Klonecki, Lucas Larson, Jake Pientok, Wes Herried, Dylan Summers Bottom Row (L To R): Brett Leque, Sam Schultz, Kory Lasiter, Bill Kissinger.
Season Notes:
10 Seasons Ago: "Pop, Lock, and Drop 'Em" 2007-2008.... Aggression... The pure unadulterated love of aggression would define this team in its' place in Norse history. This team would eventually produce two top 4 individual WIAA state finalists (Wes Dubiel, Cole Myren. A third state qualifier in Joe Sygulla. Two state ranked wrestlers in Wes Dubiel, and Dillon Sylla. There will be five of these wrestlers in the military: Ben Kissinger a Marine, Cassie McAnallen in the Navy and Jake Humphrey, Cole Myren and Luke Schultz in the Army. There was a college / semi-pro football player in Tyler Bortle. Then there were two guys that went on to have an MMA career; Kevin Lasiter, and Wes Dublel. Let me catch my breath.... Ok There were 7 all-conference wrestlers. 4 sectional qualifiers. Then in this wrestling room of toughness comes our first female wrestler Cassie McAnallen! There will also be two career 100+ match winners, and a freshman with 25 wins! THERE WERE 10 WRESTLERS THAT EARNED THE IRON MAN AWARD THAT YEAR! Just crazy tough. Coaches Peterson and Klonecki had a tiger by the tail in the practice room.
This team comprised of Tyler Bortle (HWT), Dillon Sylla (HWT, 25W-11L, 17 Pins), Wes Dubiel (#215, 40W-5L), Kevin Lasiter (#189), Cole Myren (#189), Jesse Sanchez (#125), Justin Bloom (#135), Chad Stellpflug (#160), Nathan Brown (#171, 15W-16L), Jesse Taylor (#145), Jacob Humphrey (#140), Ben Kissinger (#152), Joe Sygulla (#135, #140), Derrek McAnallen (#130), Cassie McAnallen (#103), Charlie Moe (#125), Caleb Tamke (#119), Luke Schultz (#125).
Our cheerleaders were loud and were true wrestling fans, they were Ashley Kurth, Bethany Maassen, Tabatha Schultz, Angeline Frei, Jenna Fremstad, and Dani Peterson. Cheer Coaches Beighley and Lewis did a great job this season.
The duel season was a brawl fest with the Norse going 4 and 9; defeating dangerous Onalaska-Luther (40-33), powerhouse Saint Croix-Central (48-33), 121 rival Independence (45-35), and always tough C-FC (51-23). Now you might not be impressed with a 4-9 season also know the Norse dropped three one point heartbreakers to Stanley-Boyd (37 to 38), Melrose-Mindoro (39 to 40), and to Durand (36-37). In reality we were a card draw from a 7 and 6 season in an era of tough competition.
In the tournaments the team earned six top ten places. At Black River Falls the team placed 5th with Wes Dubiel as champion. In the Husky Invite the team placed 9th with Cole Myren and Dubiel annointed as champions. Also placing high was Chad Stellpflug, Derrek McAnallen and Dillon Sylla. The Norse took 3rd at the Arcadia Invite and Dubiel took 1st. Wes also took podium in Ladysmith (team 9th), and Independence (team 8th).
The Norse had a successful WIAA tournament series. The Regionals were held in Whitehall. The team placed a respectable 4th. Wes was the #215 Champion and qualified for regionals. Joining him was Dillon Sylla. Moving on to the Sectionals held on the UW-Eau Claire campus Wes worked his way through his bracket and became the Program's 7th State Qualifier.
Coming into the State tournament as a lower seed, Dubiel had to take the hard road through the event. Wes fought his way to 4th place being the first top five finish since Roger Bautch's 2nd Place finish in the 1980-1981 season.
This was a milestone season. The quality of wrestling was very good. Wes Dubiel ends his career 105-30. A three time sectional qualifier and two time state qualifier. Joining him in graduation was steady wrestler Kevin Lasiter and workhorse / perennial winner Derrek McAnallen. Three time sectional qualifier. The team was very hungry and will go on a several season winning run for Coach Peterson. The future looks very, very good. Thank you wrestlers and cheerleaders for your contributions.